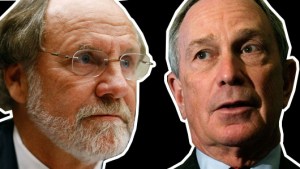 In election terms, 2009 is an off-year, sandwiched between the presidential campaign of 2008 and the full slate of House, Senate and gubernatorial contests set for 2010. That means the action in '09 will be limited to three marquee races: the governor's races in New Jersey and Virginia and the mayor's race in New York.
Even though local dynamics tend to shape contests for these offices, they will invariably be watched and dissected for their national significance. Republicans, smarting from painful drubbings in 2006, 2008 and a host of special elections in between, will trumpet any success as a sign of resurgence and a harbinger of a strong midterm performance in 2010. Democrats, conversely, will portray any victory as evidence that their momentum hasn't slowed and that they might be able to buck history by picking up seats in Barack Obama's first midterm election.
Both parties play this same game every four years, but history is mixed on the connection between a party's success in off-year election and its fortunes in the next year's midterms.
The first thing that can be said, if history is any guide, is that the Republican nominee for governor of Virginia should be considered the favorite. For the past eight elections, dating all the way back to 1977, the Old Dominion's voters have elected a governor from the opposite party of the White House occupant. The last time Virginia chose a governor from the sitting president's party came in 1973, when Mills Godwin, a conservative former governor who switched that year from the Democratic to the Republican Party, was elected while Richard Nixon sat in the White House.
The streak can be explained partly by coincidence and partly by Virginia's one-term gubernatorial limit, which ensures that every election is competitive (and probably gives the out-of-power party a boost). But, just as voters nationally tend to favor the out party in midterm elections, there is evidence that some Virginians tend to see their off-year elections as a chance to throw a brushback pitch at the president.
Perhaps the best example of this came in 2005, when George W. Bush showed up in the state – which he had carried by eight points over John Kerry the previous November – on the eve of the election, only to see a dead-even race turn into a healthy seven-point victory for the Democratic nominee, Tim Kaine.
New Jersey's voters are working on a similar, though not quite as uncanny, streak. The last time the Garden State elected a governor from the president's party was in 1985, when Tom Kean soared to a historic reelection triumph (he carried all 21 counties) every bit as dominant as Ronald Reagan's victory the year before. Since then, though, the opposite party rule has prevailed.
As in Virginia, coincidence has played a role, but national dynamics have clearly intruded as well – most famously in 1993, when Bill Clinton, after pushing a massively unpopular tax hike through Congress, dispatched James Carville to manage the reelection campaign of Jim Florio, who himself had championed and signed a reviled tax hike a few years earlier. New Jersey's ultimate verdict on Florio, national observers decided, might foreshadow Clinton's own fate with the public. In the end, Florio fell just short, losing to Christie Whitman by less than 30,000 votes, a margin that owed itself in large part to Clinton's unpopularity.
What we can conclude from this is that unique local factors typically determine whether the New Jersey and Virginia races are, at a basic level, competitive. If they are, then national considerations come into play, with the out party probably receiving a boost of a few points – enough to be decisive in a tight race.
(This principle doesn't really apply to New York City, given its overwhelming Democratic bent. While mayoral races receive plenty of national attention, they aren't generally seen as national bellwethers unless voters play against type – like in 1993, when they elected a Republican, a development trumpeted nationally as a sign of mounting G.O.P. strength.)
This, obviously, suggests golden opportunities for the G.O.P. in both Virginia, where they have been without the governorship for eight years, and in New Jersey in 2009. Between the two, demographics favor Republicans more in Virginia, although the state has moved sharply in the Democrats' direction recently, while the public's mood may help them more in New Jersey, thanks to Jon Corzine's tone-deaf governance and shoddy poll numbers. (Polls have found his likely Republican challenger, former U.S. Attorney Chris Christie, running even with him.)
But even if the G.O.P. does break through and win in both states, it doesn't necessarily portend a big year in 2010. While it's become common in the past few decades for the out party to win New Jersey and Virginia in off-years, seismic midterms haven't always followed. In fact, it's not hard to find differences between "normal" off-year elections and those that herald the onset of a lopsided midterm campaign.
The classic example of this came in '93, and not only because of Florio's Clinton-aided defeat in New Jersey. That same year, George Allen, then a little-known one-term congressman, overcame a deep deficit to handily defeat Democrat Mary Sue Terry, Virginia's attorney general, in that state's gubernatorial election, an outcome that was also attributed to Clinton's unpopularity.
Moreover, Republicans also claimed a handful of surprise mayoral victories, with Rudy Giuliani in New York, Richard Riordan in Los Angeles and Bret Schundler in Jersey City's nonpartisan vote. Had Democrats won these contests, no one would have paid much attention (except in New York, simply because everyone always watches the New York mayoral race). But because Republicans swept them, they received wide coverage. On top of that, the G.O.P also won a special Senate election Texas (and a House race in Kentucky in the spring of 1994). Taken together, this provided good reason to believe that frustration with the approval-starved Clinton would be a major factor in 1994.
In other years, though, off-year success hasn't translated into much. For example, in 1989, a year after George H. W. Bush won the presidency in a rout, Democrats won gubernatorial races in New Jersey and Virginia. But their gains in the 1990 midterms were disappointing, just one seat in the Senate and seven in the House – nothing to sniff at, but hardly out of the ordinary, given that the out party almost always posts gains in these elections. And after sweeping Virginia and New Jersey in 2001, Democrats actually lost seats in George W. Bush's first midterm elections, in 2002 – a history-defying result attributable to Bush's shrewd exploitation of 9/11 and the fall '02 "roll-out" of the Iraq war.
In short, history says 2009 could be a good year for the G.O.P., and maybe a very good one. It could signal a pending backlash against Obama, a theory that Republicans will grow hoarse advancing. Or it could just be New Jersey and Virginia voters doing what they always do.