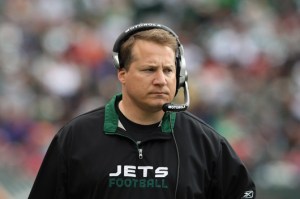 Four weeks removed from establishing themselves as the team to beat in the AFC by virtue of a 34-13 thrashing of the then-undefeated Titans in Tennessee, the Jets are all but dead following an abysmal 13-3 loss to the Seattle Seahawks yesterday afternoon in Seattle. The Jets' slim playoff hopes are now contingent on defeating the Miami Dolphins next week and hoping that the moribund Buffalo Bills somehow earn a victory against the red-hot New England Patriots: an unlikely scenario, to be sure. And so what's in the offing now is not simply the biggest collapse seen outside Shea Stadium; it's the manifest failure of the Mangini regime.
The blame game will doubtless start with an overanalysis of yesterday's humiliating loss to a 3-11 Seattle Seahawks team so ravaged by injury that it was without either its starting quarterback or a single starter on the offensive line. There will be talk of bad calls, missed opportunities, the decision to kick a field goal on fourth down and one from the Seahawks' two-yard line on the game's opening drive, to punt after a five-yard penalty negated a 45-yard Jay Feely kick early in the fourth quarter, the decision to go for it on fourth down and four from their own 20 with 2:21 remaining in the game, and, of course, the Jets' continuing inability to win on the West Coast. These are red herrings. The truth is that the Jets' implosion has had relatively little to do with yesterday's mail-in performance against the Seahawks. This self-destruction has been weeks in the making.
Their wins at New England and Tennessee conclusively established that the Jets have the talent to beat any team in the league. Seven pro-bowl nominations seconded the proposition. But for over a month, the Jets have been sabotaged from within, being glaringly out-coached in nearly every facet of the game. And for over a month, Eric Mangini has been unable or unwilling to stem the tide, choosing instead to stand behind coordinators Brian Schottenheimer and Bob Sutton, both of whom have extracted precious little from relatively talent-laden squads. Their game plans have given the team no strategic advantage in the first half of games, and their halftime adjustments, if there have been any, have changed nothing. More bad run defense, more bad pass defense, more inane, self-defeating offensive play-calling.
As a result, the Jets have been tanking for four weeks. They are 1-3 in their last four games, and only a miraculous end to last week's near-disaster against the Bills has saved them from being 0-4 since their landmark win against the Titans. Four consecutive weeks of pitiful, eerily similar football.
And all the while, Eric Mangini has taken exquisite pains to betray no sense of alarm or urgency. As has been his wont since day one, he has remained the very picture of outward calm, tirelessly repeating his ever-familiar mantra about avoiding mistakes and moving forward. To witness his manicured media persona is to think him as always in control, never given to the whims and folly that mark the behavior of many other coaches around the league. But the bottom line belies the façade. He has fiddled while the Jets have burned.
Mangini had a chance to fix the problem weeks ago, when it first appeared that the Jets were headed downhill and when it became obvious that neither Schottenheimer nor Sutton was capable of righting this ship. The Jets' loss to the Broncos following their win in Tennessee was excusable as losses go. It was a poorly played game to be certain, both familiar for the Jets mind-numbing inability to defend against the pass and novel for their sudden inability to rush the passer or stop the run. But above all, it was a classic letdown: something familiar if not altogether acceptable. But their follow-up loss to a terrible 49ers team in San Francisco ought to have sounded an alarm. And if the Jets are left with their hands pressed up against the playoff glass a week from now, it will be that game and the week that followed that sealed their fate.
The ugly loss in San Francisco bespoke a foundering team in desperate need of a second wind. It was not only high time for a change; it was Eric Mangini's golden opportunity to place his unique stamp on this team and thereby escape, once and for all, the titanic shadow of Bill Belichick and the several scandals that had linked the two men since Mangini moved south. Certainly, after two horrendous performances against the Broncos and 49ers, at least one of the coordinators ought to have been fired.
In fairness, replacing Schottenheimer, although necessary, would have been difficult because the Jets appeared to lack any obvious alternative. But what excuse for failing to act on defense, where Bob Sutton had shown himself to be far out of his depth? After all, Eric Mangini came here with a nearly unmatched defensive pedigree. For ten years, he was groomed by perhaps the foremost defensive thinker in pro- football history. He brought the 3-4 defense to the Jets. He knew it better than anyone this side of Foxborough. He could have stepped in to coach the defense at any time. And yet he was content to stand by and allow Sutton to run the ship aground.
Although there's no guarantee that firing Sutton or Schottenheimer would have proved a sudden cure for the Jets' ills, it would have been superior to the alternative, as subsequent weeks have borne out. Doing nothing was not merely a mistake; it was an egregious error owing more to stubbornness and ego than to strategic calculation. Even if Mangini were truly dumbfounded by the Jets' downward turn, he had to know that Sutton was not getting through to the defense. That alone warranted his ouster. Now, of course, it's too late. The Jets have spun wildly out of control, and there are no firings or hirings that will save this season. The time for that is past.
For some reason, perhaps unknowable, Eric Mangini could not depart from his own orthodoxy. He became too rigid, too married to his system, too doctrinaire to make the pragmatic changes necessary to save the Jets. And if the Jets find themselves at home after next week's game against the Dolphins, owner Woody Johnson will hard-pressed for reasons to bring Mangini back. To date, the Mangini regime has been less modeled on Bill Belichick's reign in New England than on Belichick's much-maligned tenure in Cleveland, where his gruff manner and staunch unwillingness to acknowledge errors soon left him on the NFL scrap heap. If only in this respect, Mangini appears a good bet to follow in the footsteps of his celebrated boss.   
Now Eric Mangini may very well have just one more week to get this right. And sadly, even a virtuoso performance against the Dolphins may not be enough to save either his team or his job.