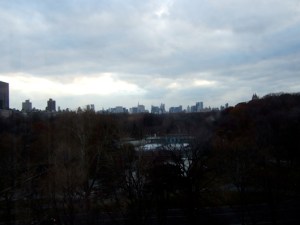 It's been three years since the Athena Group purchased the lot at 111 Central Park North, occupied then by a low-slung brick building that housed a hair salon and a parking lot.
In the ensuing years, the development company built a glossy condominium tower, outfitting its 88 units with marble countertops, Viking ranges and dramatic views of the Manhattan skyline and Central Park. Jill Sloane, an executive vice president at Halstead Property, broke a Harlem sales record when she helped sell a 4,000-square-foot penthouse for $8 million. And brokers, marketers, journalists, buyers and Harlem residents tested out a new label along the way: Central Park North.
But all that seems long ago.
"My business basically changed overnight," said Ms. Sloane, explaining that she had had the best year of her career, until the collapse of Lehman Brothers in September.
And what of the progress of that strip of park-front property along 110th Street, once destined to be a hot new address? The rampant development some envisioned will likely take a lot longer – if it ever happens. For better or worse, 111 Central Park North may be, literally, one of a kind.
"Nobody's dying to get there," said Charlie Lewis, a senior vice president at Warburg Realty, who specializes in Harlem deals. "When it comes down to it, there's no market because it's almost like a little nondescript area. It's just a great place to be for park views, but there's no neighborhood."
The boundary of Central Park North is tricky to draw. People who have lived in the area for decades still call it West 110th Street. Some say 110th Street North or divide the thoroughfare down the middle, dubbing the northern side 110th Street and the southern side Central Park North. Street signs display both names.
"For me it's easier to say, when answering the phone, to say 'Good morning, 125 Central Park North,' instead of saying '125 West 110th Street,'" said Henry Banks, a doorman and concierge at the building. He added that mail comes to both addresses but that most tenants use Central Park North when ordering deliveries. "It's easier, more convenient."
Most observers would sketch the neighborhood's borders between Frederick Douglass Boulevard and Fifth Avenue. But if the peripheries are nebulous, the center is certain: 111 Central Park North, which towers almost twice as high as the other buildings around Lenox Avenue.
Units in 111 CPN went on sale in December 2006, and most sold between October 2007 and July 2008. ("The two-bedroom flew off the market," said Ms. Sloane.) Several three-bedrooms are still for sale, with asking prices in the neighborhood of $2 million.
"Certainly, less desirable neighborhoods are going to get hit harder," Ms. Sloane said of the downturn, "but I think with that kind of view it will come back pretty quick."

BUT WILL 111 CENTRAL Park North have any plush neighbors?
At this point, there are few lots in the area available for redevelopment. The 9,000-square-foot ground-floor retail space at 111 Central Park North – steps from the 2 and 3 trains, with ample sidewalk space facing the park – remains vacant. The other buildings on the street are mostly co-ops, with a church at 145 West 110th Street. Some have already been refurbished; others are public housing. Sales at one building, at 137 West 110th Street, date back to 1988, according to PropertyShark.
"There's nothing you can do," Mr. Lewis said. "There's no land. Unless the developer offers an astronomical amount of money to come in and make those things over." Mr. Lewis believes that changes in the market will not affect the area, simply because there's no market there to be changed.
Gary Davis, a partner at Browne Fino Davis and formerly the Athena Group's executive director of development, confirmed that 111 CPN was "an unusual site," since it used to be retail, in contrast to the rest of the street, which is mostly residential.
The Observer ran into Mr. Davis on his way home; he lives on the building's seventh floor. ("I found this deal and put it together," he said. "I've been pretty close with it for a long time.") As far as he is concerned, the strip is different than the rest of Harlem: the proximity to Central Park, the street furniture, and the symmetry of the Park's bordering streets all differentiate West 110th Street. But Mr. Davis believes that change will come gradually.
"The only building that might be in play is the triangular one back here," he said, referring to a retail building on 21 Lenox Avenue, which he said some local developers are interested in tackling.
"This would be the one that should go." He pointed to the Park View Hotel, a single-room occupancy hotel at 55 West 110th Street. "That's a great site. That could have a significant building on it."
"But that's not going to happen for a while," Mr. Davis continued. "No, nothing's going to happen. For three or four or maybe five years, it's going to take, it could take that long. To the point where people can build buildings again and it makes sense."
Mr. Lewis, the Warburg broker, calls 111 CPN a "magnificently well-designed building," and believes its value will hold through the downturn. But he sees it as a destination for buyers priced out of Central Park West – in other words, a one-off.
"It's like this: there's always a right price for someone to take an offer and buy something and create whatever they want to create," he said. "And if we were still in a boom time, maybe a developer would have come north and asked those co-op owners in those co-op buildings, 'Hey I've got a great price, would you buy out, would you sell?' Maybe."


DEVELOPERS HAVE REMADE NEIGHBORHOODS, of course. (Dumbo comes to mind.) But in today's market, who has that kind of cash flow? Who wants to take that kind of risk? And, more importantly, who could get the credit to do it?
So far, the only other condominium building in the area is 125 Central Park North, where Ms. Sloane purchased an investment property in 2005. Two units are up for resale, according to PropertyShark, including a penthouse apartment, which sold for $1.675 million in September 2006 and has been listed at $1.8 million since Aug. 1. Another owner is asking $1.345 million for a two-bedroom he bought in August 2006 for $1.15 million.
"If somebody bought in the last year or two," said Ms. Sloane of 111 CPN, "I would say you need to wait to sell because you're not going to be selling at what you paid for. That's for sure."
"It'll slow down turnover up here, as will most other places," said Mr. Davis, of Browne Fino Davis. "You'll probably see a little more depreciation of value here than you would in other, more prime locations."
At present, apartment prices in northern Manhattan are roughly steady, according to data compiled by Halstead. Average prices on condominiums rose from $637 per square foot in the third quarter of 2008 to $650 in the same period last year, but prices at 111 CPN skew the data much like 15 Central Park West does for the Upper West Side. Inventory in Northern Manhattan increased by 13 percent between the third quarters of 2007 and 2008.
The area has seen widespread change, which has earned mixed reviews from locals. While most residents welcome the drop in crime rates, others worry that owners are letting buildings decay to kick out longtime tenants and facilitate rent hikes.
"Where I'm living in, it's kind of bad," said Qiana Nicolau, a fresh-faced cosmetology student who moved to the Park View Hotel a month or two ago. "But outside it's not as bad. Because it seems more safer outside than it actually is inside."
"If you can still see the park, it looks good over here," said Henry Francis, a porter who used to live in the area but now lives in the Bronx. "But you come on this side [farther north], and you still have the drugs, the common criminals, the criminal activities, troublemakers in the neighborhood."
Mr. Francis felt that the real estate downturn would not really affect the area: "We've always been broke," he said. Other residents echoed Mr. Francis' opinion, or wondered why developers had built condos and not housing for the homeless. Some pointed out that the designation "Central Park North" is nothing new.
"That's not a new neighborhood," said one stay-at-home mother, who declined to give her name. She has been living in the area for all of her 37 years, and was pushing her newborn in a stroller on a recent mild afternoon. "That's been the name for years."
"I believe that the area has undergone and will continue to undergo renovation, building, maybe not at the same pace as before," said Allan Aciman, a senior vice president at Bellmarc Realty, who lives nearby at the Towers on the Park. "But this is an area that has already been completely renovated and rebuilt to a great extent already."
"To be honest with you," he added, "I've been calling it Central Park North for the last 20 years. So it's tough for me to call it anything else."