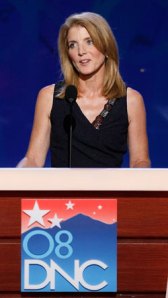 The New York Post's endorsement of Caroline Kennedy yesterday is another brilliant example of the political mind of Rupert Murdoch.
For starters, it's good to have a relationship. That's a Rupert operating policy.
"I think Rupert has a special relationship with Caroline Kennedy and that has happened through [News Corp. spokesman] Gary Ginsberg, who was John Kennedy Jr.'s factotum," said Michael Wolff, the writer who recently published The Man Who Owns the News, a biography of the media titan.
"They went to Brown together," he continued. "Gary was very much involved with George magazine and he worked for George. He was a full-time whatever at George. He was the lawyer—he went to law school—and consigliere to J.F.K. Jr. and he has a fairly close relationship with Caroline. I'm not sure how close anyone is to Caroline because she is possibly the most remote person on earth, but he is among the people in New York who has a relationship with her. And he's used that in several instances with Murdoch."
As Mr. Wolff wrote, and The Times reported yesterday, Ms. Kennedy also once wrote a letter of recommendation for Mr. Murdoch's daughter for the Brearley School, where Ms. Kennedy serves on the board.
"And when they were trying to reach out to Obama in—let's see, last spring!—it was through Caroline," Mr. Wolff continued. "When the Post endorsed Obama in the primary, in the New York primary, Gary Ginsberg sent the endorsement to Caroline, who was in the car with Obama at that very moment. We're talking about an extremely high level of influence canoodling."
Mr. Ginsberg would not comment for this story, but News Corp. hasn't exactly thrown its weight behind Mr. Wolff's bio. The author asked 50 people from the company to a book party at Milk Studios in Chelsea on Tuesday, Dec. 9—"the door is open, we're waiting!" he proclaimed there, when asked if Mr. Murdoch would be attending. But none of them showed, and Mr. Wolff said only Post editor Col Allan took the time to respond to his emailed invitation, writing that Mr. Wolff should lose his email address. ("I have not received an email from Mr. Wolff or replied to one," Mr. Allan retorted in an email to Off the Record.)
Update, December 17, 2008, 4:24 p.m.: Mr. Allan responds: "i received an email from ms de kretzer – whom i know – and i sent her a response. i repeat, i did not receive an email from wolff therefore i could not have responded. capice?"
The Post's Kennedy endorsement, at least for New York political insiders, is significant because of who didn't get it: New York's ambitious attorney general, Andrew Cuomo.
For years, the paper has been a news outlet of first resort for Mr. Cuomo, in the form of buzz-maintaining items fed to Page Six and columns by influential state editor Fred Dicker, often citing "sources close to Cuomo," detailing his thinking on pressing political matters of the day.
In his column on Dec. 8—headline: "PATERSON COOL ON CAROLINE; SHE'S A 20-1 SHOT"—Mr. Dicker had "insiders familiar with the governor's thinking" floating Mr. Cuomo's name as a possible Senate replacement, followed directly by sources close to the attorney general saying that he was "disinclined to accept the Senate appointment should it be offered," yet still undecided about the idea.
There was a warm and fuzzy Page Six item last week that announced Mr. Cuomo was dating the Food Network's Sandra Lee after they showed up together at his birthday party at the South Street Seaport. "Yes, Sandra did attend with her sweetie," gushed Ms. Lee's spokeswoman in the item.
Wouldn't Sweetie have the inside track at the Post, then?
And even if Mr. Murdoch does have a close relationship with Ms. Kennedy, considering that Mr. Cuomo went through a messy divorce with one of Ms. Kennedy's cousins, Kerry Kennedy, it seemed like a Caroline Kennedy endorsement is something the Post would prefer to push off.
But evidently not!
"It's typical Murdoch to be ahead of the game," said George Arzt, the omnipresent PR man who worked at the Post from 1968 to 1986. "I think clearly that Kennedy is the front-runner and they don't want to be the caboose. They want to be in front of the train."
And neither Mr. Wolff nor Mr. Arzt had anything to say about the relationship that Mr. Murdoch has with Mr. Cuomo.
"I don't think Rupert has a particular relationship with Andrew," said Mr. Wolff.
"I think you're making too much out of the Cuomo relationship," Mr. Arzt added. If anything, he argued, the Kennedy connection runs deeper.
"He has a long history with Ted Kennedy," Mr. Arzt said of Mr. Murdoch. "Kennedy permitted Murdoch to buy back the Post. Remember that Rupert owned Channel 5 and he had to sell the Post because of a law that was sponsored by Kennedy. And when Rupert wanted to buy the Post back when it was going bankrupt under Kalikow, Kennedy gave him permission for a waiver on that law.
"They've had a good relationship," he said.
jkoblin@observer.com