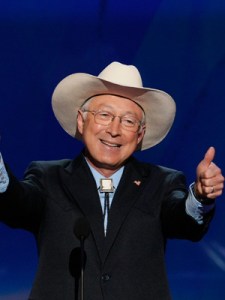 When Ken Salazar defeated beer magnate Pete Coors in Colorado's 2004 Senate race, one of the few bright notes for Democrats in a year in which Republicans picked up four seats, the 49-year-old state attorney general seemed destined for national political stardom.
By succeeding in a fast-growing and Republican-leaning state, Salazar seemed to possess the magic formula that national Democrats, stung by consecutive presidential election defeats and cursed by a seemingly intractable electoral map, were searching for.
But now, just four years later and less than two-thirds of the way through that Senate term, Salazar is voluntarily taking himself out of elected politics – probably for good. In so doing, he will create a Senate vacancy that Republicans will be well positioned to swoop in and claim in 2010. So much for that bright future.
Salazar is poised to become Barack Obama's interior secretary, an appointment that will be formally announced on Wednesday. But why he's interested in the job, and why Obama was so willing to hand it out to him, is something of a puzzler.
This, of course, is not to disparage the work of the Department of the Interior, which manages more than 500 million acres of federal lands and deals with some highly sensitive issues in Western states like Salazar's. But the Interior secretary has almost no national profile and the position is hardly one that an ambitious politician would aspire to. It's the perfect job for a politician who wants to live comfortably – and wouldn't mind being forgotten by the general public.
The current Interior secretary is a good example. Dirk Kempthorne had squeezed about all he could out of Idaho politics when President Bush came calling in early 2006. Fifty-four years old at the time, Kempthorne had served as the mayor of Boise, as a U.S. senator, and, from 1998 on, as governor. With his second term coming to an end, Bush's cabinet offer surely looked pretty good: a hefty federal paycheck and pension, entree into the D.C. social world (for a few years, anyway), and a chance to tell the grandkids that he'd been in a president's cabinet. So Kempthorne said yes, and it's doubtful he regrets it. But his profile, in Idaho and nationally, has only dropped.
The story was similar for the last Democrat to hold the post, Bruce Babbitt, Bill Clinton's Interior secretary for the entirety of his two terms. Like Kempthorne, Babbitt had exhausted his political ambitions before taking the job. After serving as Arizona's governor for nine years, he waged a quixotic bid for the 1988 Democratic presidential nomination, winning points from the media for his candor and wry wit, but flopping miserably in Iowa and New Hampshire before finally dropping out. He had nothing better to do when Clinton offered the job, and, besides being briefly considered for the Supreme Court in 1993, never had any reason to leave it.
But Salazar is different. His moderate streak and agreeable nature have made him a player in the Senate, even if he lacks seniority, meaning that he could have played a major role in shaping Obama's ambitious agenda. Plus, he's only 53 and the Senate offers a far brighter spotlight than the Interior Department. To stay put would be to maintain, if not enhance, his chances of securing national office someday. But as Interior secretary, Salazar is essentially putting an end to his days as a national political force. Perhaps he could return to Colorado years from now and run for governor, but that's about as far as he'll get.
It makes even less sense why Obama would give him the job.
One rumor floating around now posits that Obama's preferred choice for defense secretary was actually Jack Reed of Rhode Island. But since Rhode Island now has a Republican governor, Reed was an unattractive cabinet option, since his Senate seat would be filled by a Republican, who could use the quasi-incumbency to potentially win in 2010. But if a Democrat wins Rhode Island's governorship in '10, a fairly likely outcome, then Obama will be free to move Reed into the cabinet without risking a Senate seat.
This is just a rumor, of course, but it highlights the kind of thinking that goes on in every administration when cabinet spots are doled out: There are usually numerous well-qualified and prepared candidates for every cabinet spot, so why pick one who would upset your party's position in Congress?
Using this standard, Salazar is an unlikely candidate for Interior. Yes, Colorado now has a Democratic governor, Bill Ritter, who will appoint Salazar's successor. And yes, the Democrats actually do have a bench in Colorado; there are several prospective appointees who would have a decent chance of retaining the seat in 2010. But Colorado is far from a Democratic stronghold. Without an incumbent Democrat on the ballot in '10, Republicans' odds of picking up the seat will improve dramatically.
And while G.O.P. fatigue and anti-Bush sentiment pushed Colorado into the Democratic column in 2006 and 2008, the national tide should be more favorable to Republican candidates next year, now that they won't have to answer for the White House and Congress. It will be Democrats much more than Republicans who are on the defensive in 2010.
Ken Salazar was a decent bet for reelection in what is a very iffy state for his party. And he was well positioned to play a consequential role in Congress at a unique time in history. Moving to the Interior Department could put an end to all that.