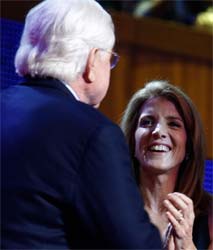 Whenever a Kennedy decides that it's time to use the family name to claim a political office for which there are numerous better-prepared aspirants, a taunt aimed at Ted Kennedy back in 1962, when the 30-year-old presidential brother ran with absolutely no qualifications for the U.S. Senate, comes to mind.
"Teddy," Massachusetts Attorney General Eddie McCormack, Mr. Kennedy's opponent in that year's Democratic primary, said, "if your name was Edward Moore instead of Edward Moore Kennedy, your candidacy would be a farce."
Mr. McCormack, himself a political legacy (but at least a somewhat accomplished one), was right. As of '62, Mr. Kennedy had been kicked out of Harvard for cheating and then readmitted, served two years in the Army — stationed in Paris — taken the title of "campaign manager" for his brother John's can't-miss Senate re-election bid and graduated from law school.
Read the rest.