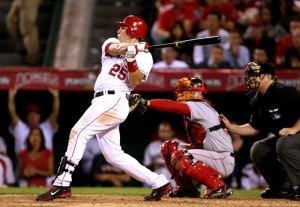 Leave aside the eye-popping eight-year, $180 million contract the Yankees and first baseman Mark Teixeira agreed to on Tuesday. Ignore for the moment that snatching him from the clutches of the Red Sox made Boston's 2009 offense worse. The important question raised by the Teixeira deal is: how much better does Teixeira make the Yankees?
The answer: a lot. Not only for his hitting and his defense, but in adding an in-prime star to the team's lineup, Teixeira helps make certain that what should be a stellar pitching staff won't go to waste.
Let's start by debunking the myth that Teixeira isn't a superstar. He suffers from the same problem that Carlos Beltran does: he does everything very well. He's only hit more than 40 home runs once in his career, but his OPS+ marks are 131, 144, 126, 150 and 151 over his past five seasons. And that consistency isn't likely to change anytime soon–Teixeira won't turn 29 until after Opening Day.
His last two seasons are a statistical marvel, given the circumstances of his past two seasons. His raw line in 2007 was .306/.400/.563, while he posted a .308/.410/.552 in 2008. That amazing consistency came despite being traded during each season—and his numbers improved each year with his new team.
That kind of offensive constant is an important addition to this Yankee roster, a team full of older players. Derek Jeter, Johnny Damon and Hideki Matsui are each entering their age-35 season; for Jorge Posada, it's age 37. That was half the lineup, and prior to the acquisition of Teixeira, the other half of the lineup included Alex Rodriguez, Robinson Cano fresh off of a disappointing 2008, Nick Swisher (who hit .219 last year), the offensively average Xavier Nady, and either Melky Cabrera or Brett Gardner.
Now the Yankees have the production of Teixeira and A-Rod, who shows no sign of slowing down, to bank on. Merely a bounce-back season from either Cano or Swisher and continued production from any of Jeter, Damon or Matsui should make for an above-average offense—one which can even carry a defense-first center fielder like Gardner. Should everyone return to form, the Yankees could approach 2007's six runs per game pace—with a far better pitching staff.
And the defense also took a step forward with the addition of Teixeira, even though first base isn't the most important position on the diamond. Teixeira has been a consistently excellent defender, and last year was no different. Meanwhile, the first baseman he replaces, Jason Giambi, was best known for his bat, and for good reason.
But that difference needs to be measured beyond just the defense Teixeira will play. It's also worth noting that the Yankees added an elite offensive player without sacrificing defense, as they would have if they brought either Manny Ramirez or Adam Dunn on board. Both players, particularly Dunn, are comparable offensively. But both give back large portions of their batting production in the field. Not so with Teixeira.
The signing does create a logjam between Teixeira, Matsui, Damon, Nady and Swisher—five players for first base, left field, right field and designated hitter. The Yankees will likely trade one, ideally Matsui or Damon. That would leave the Yankees with three of their four traditional power positions manned by players in their primes—not including Rodriguez at third base, who is on pace, of course, to set the major league record for career home runs.
In short, the Teixeira signing, and the moves it likely foretells, will help make the Yankee lineup filled with superstars, many of them in their primes. Make no mistake about it, the Yankees will be the favorites in the American League next year based upon their starting pitching, and rightfully so.
But signing Mark Teixeira will go a long way toward making certain that the expectations raised by those starting pitchers are met.