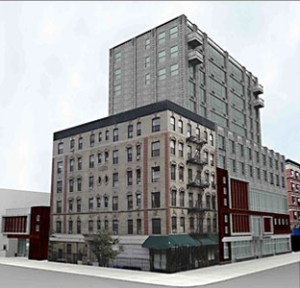 The landscape will look different in 2009, but girls will still be girls, and the Lower Eastside Girls Club, with development partner Dermot Company, is still moving forward with its plans to build a clubhouse/apartment building on the Lower East Side.
On Dec. 16, the 13-year-old girls club and Dermot filed plans with the Buildings Department for a stylish, 12-story, 90,000-square-foot building on Avenue D, between East 7th and 8th streets. The club has been written up lots for its educational, arts and entrepreneurial programs, including its non-profit Sweet Things Bake Shop on Avenue C.
Cutsogeorge Tooman & Allen Architects describes the project as "a green building with an anticipated LEED gold rating," thanks, in part, to green roofs and photovoltaic cells.
The top floors will house 72 apartments, while the first four floors will be devoted to the activities of the club, which sound fairly awesome. The Web site for the group, whose services are now scattered at various locations throughout the neighborhood, says there will be a photo/video center, a radio lab, a planetarium (!!), an amphitheater and a construction shop:
"In 2009 The Lower Eastside Girls Club will start construction on The Lower Eastside Girls Club Center for Community, New York City's first and only Girls Club facility. This sustainably built "green" state-of-the-art capital project will enable us to triple our program capacity. When the doors open to our new building, girls will enter a new world filled with hope, imagination and possibility for the future."