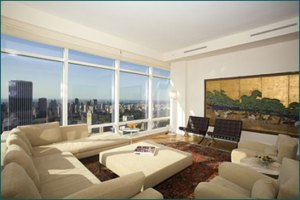 As brokers who have quietly begun to shuffle back to work will tell you, the good news is that New York's real estate market does not seem entirely blanketed with that weird snowy silence. One seller even just got $4.2 million for his apartment at 530 East 76th Street, a mere $300,000 below his asking price!
The bad news, especially for people with an aversion to Bear Stearns, is that the seller was a Bear senior managing director who led credit derivative trading groups there. His $4.2 million deed was filed in city records on Christmas Eve.
"I happened to get a pretty good price," Jeff Zavattero, who now runs a hedge fund, said this week. He had paid only $2.3 million for the place. "For me, it was a decent gain. I bought in '02, and I thought if I could sell at an 80 percent premium, I would. The market's only going one way!"
Considering Bear's real-estate–related collapse, does he feel any guilt about the sale? "No," he said. "I was not involved in trading mortgages. … I lost a lot of money in Bear Stearns stock. … You can sit around and mope or you can deal with the situation, and I had an opportunity."
His three-bedroom duplex penthouse had "stunning river views" and double-height ceilings, according to an Ellliman listing. It was bought anonymously.
Less than an hour earlier, a deed for former Lehman Brothers vice chairman Kunho Cho's much bigger sale was filed with the city. Mr. Cho, who had been listing his One Beacon Court condo (pictured) for $11.9 million, got only $10 million when a group called Cliffside Ventures bought the place.
That's a much steeper compromise than Mr. Zavattero's $300,000 cut; but consider that Mr. Cho and his wife, Tay, paid only $5.975 million when they bought the 43rd-floor apartment in June 2005. (As The Observer reported two years ago, they also got $2.2 million when they sold another condo to Sharon Percy Rockefeller, whose father and husband are both senators.)
It's not clear what Mr. Cho is doing now, but he's apparently valuable: This summer, when Lehman CEO Dick Fuld was scrambling for last-minute cash injections, Mr. Cho reportedly provided connections to South Korea.
mabelson@observer.com