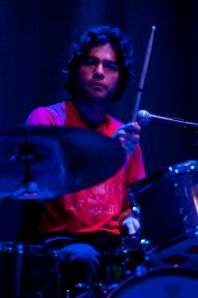 WASHINGTON, D.C.–Shortly before the Honey Brothers, a New York band featuring the Entourage actor Adrian Grenier, performed at an inuaguration party hosted by Calvin Klein and Rock the Vote, another familiar New York face appeared on the stage of the 9:30 Club (think Webster Hall) on V Street.
In New York, the long-haired, nose-pierced model Jamie Burke can be found on a Calvin Klein billboard on Houston Street, or at the Beatrice Inn, or on the arm of notable young ladies like Sienna Miller, Lindsay Lohan, and Kate Moss, all of whom he's reportedly dated in the past. But last night was Mr. Burke's first trip to D.C. and his first performance with his new band, called simply Burke. (The British model also sings in a band called Bloody Social.)
"I was quite psyched this morning watching all the people walking on the freeways, but i know that doesn't happen every day," said Mr. Burke, brushing his grungy hair away from his face. "We're only here for like one night, but I like D.C. They serve the same beers and this pub seems pretty awesome."
As someone who is used to being in front of cameras and dodging photographers in New York, the Daily Transom wondered if Mr. Burke had any advice for President Obama on how to dodge his own set of D.C. paparazzi.
"The one thing I don't like about paparazzi is how they chase around," said Mr. Burke. "A few things need to change in the world. Like what we buy into. We need to go for real art and real people and like real values and not, like, fake shit anymore."
Mr. Burke continued: "He has much more important things to do, but nonetheless, maybe he's the kind of president who may well change how we view all that. I think maybe he's going to be more a people's president more so than a famous president. If you're a famous president maybe you get chased by paparazzi. If you're a people's president, maybe you're just out there so you don't need to get chased by paparazzi."
When the Honey Brothers assembled on stage following Mr. Burke's performance, Mr. Grenier announced to the audience, "Obama has gotten into our hearts and we intend on following through on that spirit." The crowd cheered and Mr. Grenier, in jeans and a red T-shirt, made his way over to the drums.
And later, when the Daily Transom found the actor backstage with his bandmates, he still seemed giddy from the inauguration the previous day. "I only have four toes left, but i have a whole soul," he said.
Naturally, we wondered what the actor who plays a famous actor followed around by paparazzi on Entourage thought of our new president's celebrity status.
"Well, JFK sort of changed the landscape of politics by bringing it to the television. Obama is just sort of brought it to every form of media known to man," said Mr. Grenier. "He's a celebrity, sure. It's just more attention so he's potentially going to be criticized more, but I have every confidence that he's a humble guy and he knows how to use it for a different gain."