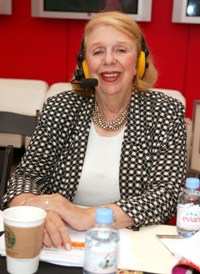 ALBANY—David Paterson had a date with Joan Hamburg.
"I give a lot of interviews, but this is one time when I'm excited," the governor told the "first lady of talk radio" this afternoon on her daily radio show. "I've gone to a lot of restaurants you've recommended," he added. They then agreed to try one together.
Once the serious stuff began, Paterson offered more praise of Michael Bloomberg, saying, "New York City, I've got to say, you couldn't ask for better management during the last couple of years than the City Council and the mayor have been able to provide."
(Paterson's budget is somewhat less kind to the mayor.)
He also said talk of  the federal stimulus package he had hoped to craft along with other governors is not necessarily helping his budget negotiations.
"People, I think, are so frightened by the amount of the deficit, that every time they hear the prospect that money is coming from Washington, it almost slows down our negotiations," he said, adding, "At the most I would think we might get 20 percent of our problem solved by Washington."
And of course, the two spoke about the prospect of appointing Caroline Kennedy to the U.S. Senate.
"I am amazed at the amount of attention Caroline Kennedy has gotten–being a very demure, almost shy, rather reserved personality," Paterson said. "I mean, Caroline Kennedy obviously does have a tremendous relationship with the president, and that's certainly a plus. She does not have much political–I mean legislative–experience which is a minus."