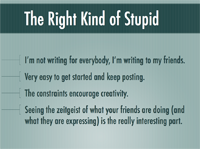 Today, The New York Times' Deal Book blog noted a TechCrunch article that reports on Twitter's call for more venture capital funding. Everybody's favorite micro-blogging platform is reportedly signing a term sheet with at least one venture fund, valuing the San Fransisco-based firm at $250 million. Last June, the company raised $15 million from Spark Capital, Bezos Expeditions, Union Square Ventures and Digital Garage.
Twitter has long been a fascination of The Times. Today, NYConvergence points us to a slideshow presentation presented to Times staffers last spring by Jacob Harris, one of their "renegade cybergeeks," (or, you know, 'Website developer'). It took 34 slides for him to fully explain exactly what Twitter does and how it can be useful.
Mr. Harris explained in a personal blog post:
At the Times, we regularly have lunchtime talks on various educational topics and I thought it would be fun to do one on twitter and why I think it matters (_on a related note, it is interesting to see how various sections in the paper have covered the twitter phenomenon so far). As the developer behind the nytimes twitter feed, I also personally have an interest in seeing how twitter might mesh with more traditional forms of journalism and discuss what we could do further with the feeds, so it seemed like an excellent opportunity to talk about new technology at the Gray Lady.
The presentation maps out what a typical Twitter homepage looks like and how to post on the blog. Slide 11 is titled "Sipping From the Firehose," and notes "Brevity is the soul of wit (or the only way to monitor the zeitgeist without driving yourself notes (SIC?)." Slide 19 is just plain weird. Slide 24 is titled "The Right Kind of Stupid" and helps explain exactly what staffers might want to put on there.
Mr. Harris notes that some of the slides have been redacted. "I made some suggestions about how the New York Times could expand and enhance its presence on twitter. There was nothing proprietary or wildly radical in them, but I wanted to just head off Gawker or other sites that might erroneously construe them as representing the Grand Official Vision for the New York Times on Twitter."
Now, that would be just plain stupid—and not the right kind.