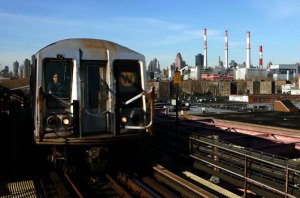 A thickly layered commuter dressed in snow boots, maroon sweatpants and a long black overcoat covered his face with a big knit scarf as the grimy W train trudged along the tracks toward Herald Square at 3:03 p.m. on Jan. 15.
A horrible stench had overtaken the downtown-bound subway car.
The smell of death?
In fact, the beleaguered W train may soon be put out of its misery.
It's one of two city subway lines and 16 bus routes that the cash-strapped Metropolitan Transportation Authority has threatened to eliminate—among various other cost-cutting and fund-raising measures—if Albany doesn't chip in to help cover the transit system's expected $1.2 billion budget deficit.
If the proposed cuts proceed as planned, the W's exit would somewhat coincide with that of the outgoing U.S. president, with whom it appropriately shared an initial, an era (2001-2008) and dismal approval ratings.
The aptly named Dubya is the worst-ranked of all 21 city subway lines rated annually by the transit advocacy group, the Straphangers Campaign, using M.T.A. data—a dubious distinction the loathsome line has earned for the past three years running.
Offering "the least amount of daytime service" and arriving "with below-average regularity," W trains are also "less clean" and "break down more often" than average. Every 87,001 miles or so, in fact, the W is delayed by some type of mechanical failure. The average subway car makes it nearly twice that far (149,646 miles) before faltering.
Not that subway riders probably expect much. It is, after all, the rusty, supplemental third-string quarterback of the M.T.A.'s current yellow-coded Broadway-line roster, providing a less capable but basically dependable backup to the N line in Queens, the R line in Manhattan and, in some spots, the Q.
Even the most jaded subway grumps can take at least some comfort in the fact that, if the "Never" or "Rarely" train lets you down, the "Worst" train will be there. Eventually. Albeit only on weekdays—and never later than 11 at night.
Yet, for all the inconvenience, W riders are slightly more likely to find a seat during rush hour, a significant upside that makes the specter of the train's possible shuttering a veritable fustercluck in the making.
Without the W, will the overburdened N and R trains suddenly become as bone-crushingly overcrowded as the No. 6?
"That's a scary thought," said Long Island City resident Matthew Principe as he prepared to board a relatively empty Manhattan-bound W train at Queensboro Plaza on Monday morning.
Like many W riders polled for this article, Mr. Principe appeared resigned to that fate, noting that in some subway stations, it seemed W signs were already being replaced.
Mr. Principe said he would simply make do with whatever other yellow-line train came along first; the Q train, for instance, which, under the M.T.A.'s plan, would ultimately be extended to Astoria in order to cover any gaps in the former W service area.
Riders of other subway lines and bus routes have been a lot more vocal in railing against the proposed cuts.
At a public hearing last week, an outspoken contingent of angry, placard-wielding demonstrators loudly bemoaned the potential demise of the popular M8 crosstown bus. Meanwhile, at the Fulton Street subway station in Lower Manhattan, a mock funeral was held to memorialize the similarly condemned Z train.
No such love for the doomed W.
"It's been at the bottom of the barrel," admitted Straphangers Campaign spokesman Gene Russianoff, who delivered last week's Z eulogy, borrowing heavily from Psalm 23: "… goodness and mercy shall follow the Z in all its days …"
Despite the many lyrical possibilities that the W's own various eccentricities could certainly provide for his musings, Mr. Russianoff said he had no immediate plans to similarly memorialize the other extinction-bound train.
But that's not to say that the Dubya is not worth saving. "As much fun as we poke at these lines, for most people, it's their lifeline to their jobs," Mr. Russianoff said. "They have lots of complaints about them, but it's like someone you've been married to for 25 years," he added, laughing. "There are good points and bad points."
Noted subway aficionado and amateur historian David Pirmann outlined the W's potentially short lifespan as one of once-vast potential, formerly running all the way from Astoria to Coney Island, but lately, diminishing returns: The limited service at present halts at Whitehall Street.
"I think it will be missed when local riders along Broadway and in Astoria realize their train interval just got halved!" wrote Mr. Pirmann in an email. "Otherwise, probably not, it didn't serve any particularly unique routing (mostly the same as the N + R)."
cshott@observer.com