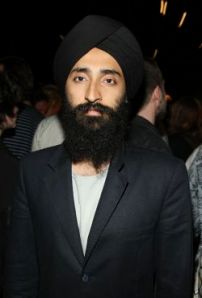 After the depressing social scene of the last few weeks, last night's party at the Louis Vuitton store in Soho gave us hope that February's New York Fashion Week, which has been losing what seems like a designer a day—Peter Som dropped out this morning—won't be totally doom-and-gloom-filled.
Louis Vuitton was celebrating a collection designed by Marc Jacobs in honor of the fashion designer and graffiti artist Stephen Sprouse, with whom Mr. Jacobs collaborated on a spring collection in 2001. (It sold out before it even arrived in stores.) The store's windows were covered in graffiti mimicking the work of the artist, who died in 2004. Mr. Sprouse's old friends, like singer Debbie Harry and Andy Warhol's pal Paige Powell, arrived dressed in Mr. Sprouse's Day-Glo designs. Mr. Jacobs, who was wearing a black kilt and had boyfriend Lorenzo Martone by his side, was welcomed by explosions of camera flashes. It almost felt like 2007 all over again!
The party guests noted how influential Mr. Jacobs' original collaboration with Mr. Sprouse had been. "I love the mixing of the two—it's two icons of their time," said model Molly Sims, who was dressed in a red, low-cut Louis Vuitton dress, told the Daily Transom. "Who would have thought Stephen Sprouse and Louis Vuitton? Graffiti on bags? But now it has become iconic."
We wondered if the supermodel was herself ever guilty of vandalizing buildings—or at least a skateboard—with graffiti.
"I never spray-painted buildings, but I was always a girl that liked fluorescent. I was always drawing and coloring," she replied. "I love art."  
Actor and jewelry designer Waris Ahluwalia arrived, as usual, with Chiara Clemente, daughter of painter Francesco Clemente, whose family was close friends with Mr. Sprouse.
"I was too much of a goody-two-shoes," said Mr. Ahluwalia when we inquired whether he ever explored a career as a graffiti artist. "But I would do it now. Now I'm up for anything!"
Mr. Ahluwalia told the Daily Transom that his New Year's was fairly quiet; he spent it in Connecticut with a few friends. 
"I've been on a plane in 2008 about 30 times so I didn't want to go anywhere," he said. "I would only go somewhere that we could drive to. So we went went sledding in Connecticut." 
But the jewelry designer, a habitual party goer, assured us that we could still look forward to an eventful Fashion Week this year. 
"No, no, there is going to be parties. There have to be! There will be parties and there will be a Fashion Week," he said. "You know how Santa Claus says, 'There will be Christmas'? Well, Waris says there will be Fashion Week. If you're positive, then everyone will get it."
Designer Patricia Field, who said that she is looking to "decelerate a bit" lately, also seemed to have a positive outlook. 
"I have no idea what it will be like this year, but maybe it will be more exciting," she said. "Maybe it's time for the soil to be tilled and the new buds to sprout."
Inch by inch and row by row, we suppose.