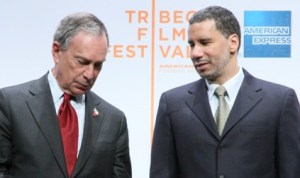 David Paterson may not be able to count on Michael Bloomberg's support for his re-election–and that race may not easy according to a Siena poll out today.
When I asked Bloomberg during a Q&A in City Hall if he'd support Paterson for re-election, the mayor said it's "a long time between now and then" and that he'll probably "stay out" of state races, like he did in 2006.
"I have to work with whoever gets elected," Bloomberg said, before noting that he has praised Paterson for being pro-active about addressing the state's fiscal problems.
The Siena poll showed Paterson has a slim two-point lead over potential Democratic challenger Andrew Cuomo, the state attorney general.
Paterson also trails Cuomo slightly in fund-raising. According to the latest campaign finance filings, Paterson has $4,888,229.66 on hand; Cuomo has $5,580,923.81.