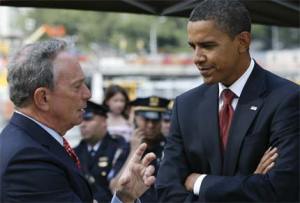 Michael Bloomberg just appeared on Al Sharpton's radio show, the latest leg of his tour of almost every media outlet in New York, to talk about Barack Obama.
Bloomberg, who has from the very beginning styled himself as a non-politician, offered Obama some advice, specifically on the timetable for addressing public education, which the mayor called "the most important thing he can do."
Bloomberg said Obama should do it "now that he has a honeymoon, while everybody wants to work together, while people don't yet feel comfortable in standing up and fighting for something other than what the president wants."
In a television interview this morning with Katie Couric, Bloomberg offered similar advice.
"I think it's very important for the new president to do a bunch of things right away," he said. "If you stall, people get entrenched in their ways a little more. Also you get – I hate to bring this up – but there's another election cycle starting for one third of the Senate and all of the House. And then you get through that, there's a presidential" election.
"That's true," said Couric, "it's always about the next election."
"Absolutely," said Bloomberg.