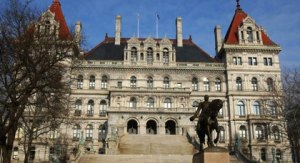 Michael Bloomberg's preliminary budget includes plans to lay off 13,930 teachers, and he's putting the onus on state lawmakers to prevent it.
Here's what he wants them to do.
The mayor said the state has taken away $770 million in education aid to the city. "What does $770 million translate to?" he asked. "Well, it translates to roughly 14,000 teachers."
He went on, "I am sympathetic with the state. They don't have any more extra money than we have."
The solution, he said, is to have the state pass along the federal education aid they're receiving from Washington.
The "state can send it to another county, or they can send it to our five counties. They are cutting us more than anybody else," he said.
When asked what he'd say to parents and teachers worried about the cuts, the mayor said, "I'd call Albany, because that's what I'm going to be doing."
He said passing along the federal money is "Albany's chance to pay for their fair share of education with somebody else's money. And if ever there was a case where we should put pressure on them, it's now."