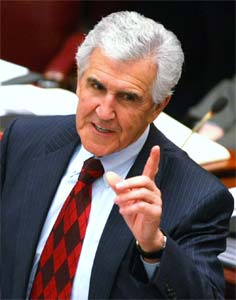 ALBANY—About two hours after his indictment on honest-services charges was unsealed in federal court today, former State Senate majority leader Joe Bruno held a press conference to proclaim his innocence and announce that he would fight back against a prosecution he called politically motivated.
He walked into the gathering at the Crowne Plaza hotel affecting a casual attitude—humming, even—but proceeded to grow despondent and even angry as he complained about his treatment.
He said that the indictment was a result of a "three-year fishing expedition," called prosecutors hypocritical, and said they "invented a crime in order to get me."
"I never thought a day like this would happen in my life," he said. "There is nothing more searing than to stand before a judge and hear yourself formally charged with breaching your personal and professional code of conduct."
Bruno vowed to fight the charges and expressed confidence that he would be acquitted.