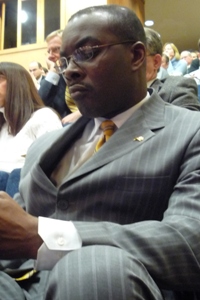 ALBANY—Buffalo Mayor Byron Brown believes he remains a contender for Hillary Clinton's U.S. Senate, despite sitting down with the governor late in the selection process.
Brown met with Paterson the same day Barack Obama was inaugurated.
The mayor said of the meeting that he "definitely [had] the sense that I was being vetted as a candidate. He [Paterson] indicated that I was still under consideration, that he had not reached a firm decision yet, and he expected to do so in the next couple of days. He indicated that he wanted me in the process and that's why he submitted my name and asked that I fill out the questionnaire."
He said Paterson gave no hints about Caroline Kennedy at the time, and of Kennedy, only that he "respected" her decision to step out. Brown wouldn't speculate on his chances at winning the seat or what effect Kennedy's departure had on them.