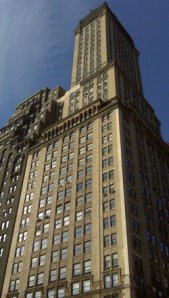 Sixteen Court Street, that soaring wedding cake of a building that pierces the sky above downtown Brooklyn, was built in 1928—the cusp of an economic catastrophe against which all future recessions would be measured. Like those who made that ambitious investment in the borough of Kings, SL Green could not have known what lay in store when it bought the trophy in August 2007.
It looked like an easy turnaround. The estate of Joseph S. Wohl—Larry Wohl's J.P. Day, which now holds nearly 2 million square feet of commercial space in the city—had owned Brooklyn's tallest office building since the 1970s, and allowed it to fall into serious disrepair. It ran a 25 percent vacancy rate (as several of the estate's other properties still do), with a tenant base of boutique law firms doing business at the courthouse across the street.
"They didn't spend a nickel on it," said attorney Richard Goldberg, who has leased space in the building since the late 1970s. Code violations were rampant, he said, and "the paint was starting to peel off in giant chunks."
"It had no reputation. It was off the radar. The building was in terrible shape," said Steve Durels, SL Green's director of leasing. At the height of the market, SL Green, the city's largest office landlord, bought 16 Court Street for $107.5 million—its first venture outside Manhattan and, for the time being, its only in Brooklyn—planning a $20 million renovation.
The news sent shockwaves through the small world of Brooklyn real estate. Blogs chattered excitedly that the buyers might convert a few of the tower's 38 stories into condos, a rumor that was quickly debunked (SL Green owns no residential real estate). Local nonprofits hailed it as a leap forward for the revitalization of downtown Brooklyn. A banner on the building's nest of scaffolding boasts, "Brooklyn's Tallest is now Brooklyn's Best."
A year and a half later, the building is still 22 percent vacant. A lease first reported in The Observer last week, to the landscape architecture firm Van Valkenburgh Associates, took months to secure.
"The word I've been using for it is 'glacial,'" said Chris Havens, one of 16 Court's leasing agents. They're 25 to 30 percent below what pricing would have been even if the 2007 market had simply leveled off, he said. "You have to be nicer. You offer little things. Deal terms have to be more open. You try to say yes as much as possible." Mr. Havens said he tours about one prospective tenant a day, if he's lucky.
Part of the problem now is Manhattan, where office rents have declined to their lowest point since 2001, offering tenants an alternative to the onetime alternative itself. The building is still asking in the mid-to-high $30-per-square-foot range—well below Manhattan's December average asking rent of $66.63, but higher than other office space in the neighborhood.
THE HUSTLE AND BUSTLE INSIDE 16 Court's still-sheet-rocked lobby is more varied than your average Manhattan office building: immaculately suited legal eagles, but also small-claims filers on their way to an attorney's office, nervously clutching court documents. The building's 70-odd tenants include the New York Daily News' Brooklyn bureau, the only remaining kosher restaurant in downtown Brooklyn, the Kings County Democratic Party, and attorney Sanford Rubenstein, who represented Amadou Diallo and Sean Bell. Many have been there for decades; three attorneys have reportedly run a popular fantasy baseball league for 20 years.
They're almost all there because of its proximity to the legal apparatus of state, making 16 Court, in an odd way, a public trust.
But SL Green is not trading on the building's diversity. Instead, the landlord has embarked on the re-branding of 16 Court as a "name" property, which Mr. Durels said involves "changing up the tenant mix" to make it "stronger, more interesting."
Mr. Havens, the leasing agent, is a veteran of another such effort: Dumbo, where as leasing director for the Walentases' Two Trees Management Co., he helped recast the neighborhood as a trendy commercial destination. On his current project, Mr. Havens is working to land the "creative tenants"—those, like Van Valkenburgh, who lend a building cachet.
In doing so, he's got one thing on his side: some of the most breathtaking views in the city. Walking into one of the raw, gutted floors near the top of the building is like climbing into an eagle's aerie, with at least three bridges visible from different windows. That's part of what lured Conservation Services Group, a national energy efficiency consultant that signed in July along with a bank and a classical music record company, away from its temporary office space in Manhattan.
"There was a certain inevitability to it," said Liz Weiner, program director for CSG's New York office. "You see office views like that, and it's really hard to go anywhere else."