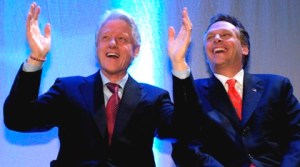 Terry McAuliffe has attended many fund-raisers at the Park Avenue apartment of influential Democratic bundler Hassan Nemazee.
But last week he was there for the first time as a candidate. On the night of Jan. 22, McAuliffe, the former chairman of the DNC, voluble longtime Clinton fund-raiser and now candidate for governor of Virginia, was introduced by former President Bill Clinton before appealing to his former cohorts for contributions last night at an event that raised approximately $350,000 for his campaign.
As bundlers including Alan Patricof, Marc Lasry, Stanley Shuman and John Catsimatidis bit into spring rolls and dumplings, Clinton said it was an "honor and a privilege to be a supporter of Terry McAuliffe and to be in a position to return the favor that he has done for me and Hillary for so many years," according to Nemazee. McAuliffe then stated his case – business savvy to turnaround Virginia's economic woes – to a crowd with a zero percentage of Virginia residents. Still, the cream of New York's bundler society present at the dinner could be said to account for McAuliffe's financial base.
According to campaign finance reports released this month, McAuliffe raised $950,000 in the last six months in his home state. He did about a third of that in a couple of hours last night.
Still, he's working his home state hard.
At the Mid-Atlantic ball following the inauguration last week, McAuliffe, dressed in a tuxedo with a sequined cummerbund and bow tie, posed for pictures with Virginians in front of flags and roamed the carpeted convention hall looking for hands to shake. At the ball, one political operative from Virginia said, "He has no chance."
But McAuliffe's ability to raise money from out of state, and especially from New York's wealthy Clinton country, makes him a serious contender. And the lack of a limit in Virginia's campaign finance law on personal and corporate donations means that he can raise a lot of money quickly. (One attendee at the dinner called the lack of a limit, "painful.")
Nemazee said the largest donation at the event at his home was around $10,000, and that the support for McAuliffe was strong. "It was a tremendous turnout," Nemazee said. "People are fatigued by the amount of effort and time and expense that has gone into the political season that ended in November, so to be able to ask people in January, and in this economic climate for donations, is a testament to support for Terry as a friend and a candidate."
UPDATE: And right on cue, he's up with his first TV ad. It doesn't mention the word "Clinton."