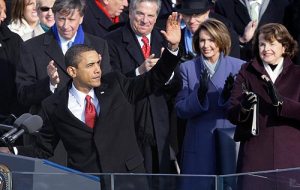 Hmmm… While the rest of the world's eyes were riveted on the beguiling mug of President Barack Obama, we couldn't help but notice the man with the blue scarf and wind-blown coif directly behind him.
Could that be Richard Blum, the chairman of CB Richard Ellis? Sure does look like him. Mr. Blum, it must be noted, is the husband of California Senator Dianne Feinstein, the lovely lady standing to the right of Representative Nancy Pelosi in this photo, which probably explains why he got such pride of place on this most momentous day in recent memory.
Couldn't hurt CB's prospects either.