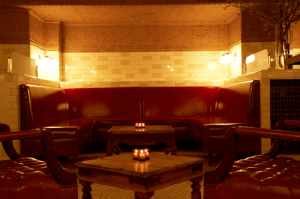 This week The Village Voice tells the story of how Chloe 81, a nightlife spot on the Lower East Side, went from a tiny place with a seductively unmarked door and good cocktails and being labeled The Next Beatrice Inn to being no longer cool due to severe over-hype—thanks, in part, to a New York Times article. 
Apparently, it all began with the email newsletter Urban Daddy, which wrote in September: "Your latest underground drinking den isn't visible from street level. Just find your way down some ratty steps and into a shiny, white-tiled cocktail station with red booths, downtown hipsters, and stiff drinks."
The following month, New York's Daniel Maurer confidently placed his "this is the new Beatrice" stamp on the place. BlackBook, Paper, and Anthem magazines all nodded their heads at the ambitious comparison.
Anthem weighed in with: "To the smug pleasure of her patrons and to the dismay of those who meet Todd or Angelo with a 'Sorry, private party,' Beatrice has continued to reign somewhat effortlessly since her inception. Most would agree that the time has come for Miss Beatrice to face a worthy opponent, and, dear readers, that moment may be upon us." (The door's tight door policy was compared to Janice Dickenson's face, and the competition between Chloe and Beatrice was compared to the West Coast's TuPac to East Coast's Biggie.) 
By the time The Times got its claws into the place in December and regurgitated all of the above, the backlash was already reportedly brewing from two outlets that often like disliking things—Yelp commenters and the New York Press. 
Earlier this week, we reported that some of Beatrice's patrons have been growing displeased lately with the Beatrice's more inclusive door policy. (Paul Sevigny, the owner, categorically denied the rumors.) According to several of the patrons we spoke to, Chloe 81 was a reasonable alternative. (Still, they admitted that at times Chloe's door policy was no less forgiving.)
"Obviously we're flattered. The Beatrice has been long-term staple in this city," Brooke Smy, a co-owner of Chloe, told us. "As far as our door is concerned, it's a teeny space so we have to be somewhat selective at the door—the Beatrice is a much bigger space than Chloe. I can see why people make the comparison, but I don't think we're that similar."