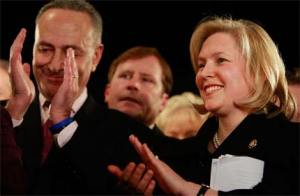 Chuck Schumer is already showing Kirsten Gillibrand the way.
As Governor David Paterson and New York's elected officials looked for their places on a stage in Albany this morning to announce Gillibrand's appointment to the United States Senate, Schumer gestured with his right hand rapidly to direct the new junior senator to stand at his side.
And when it was his time to take the podium, Schumer said many warm things about Gillibrand ("with this choice [Paterson] hit the nail on the head," "one of the most effective and aggressive younger members") and then he made it clear that he expected her views on gun control, an issue he has championed in Congress, would eventually come to reflect his own position more closely.
"Her views will evolve," he said.
This is not the first time Schumer has found himself in this position.
In 2000, when Hillary Clinton filled a Senate seat vacated by Patrick Moynihan, the newly senior senator assured core constituencies like Jewish groups that Clinton "will just look to me" when voting on "Jewish issues." Wearing his "Brooklyn Farmer" hat, Schumer showed Clinton the ropes on upstate issues.
The problem with Clinton, though, is that even when she staked out the positions Schumer indicated, she made headlines by dint of her overshadowing celebrity.
This time, things are different.
First, short blond bob aside, no one is mistaking Kirsten Gillibrand for Hillary Clinton. (At today's news conference, she seemed unused to the logistics of large press conferences and at a certain point, meekly apologized to Governor Paterson: "I'm sorry my speech was too long, I was nervous.") She is not going to be grabbing headlines. If anything she is going to be struggling to make a name for herself and to stave off any primary challengers in 2010.
And Schumer is not the same senator he was nine years ago. He has amassed real and undeniable power in the chamber after two incredibly successful cycles as the chairman of the Democratic Senatorial Campaign Committee. Senators elected on his watch are indebted and loyal to him. He is a trusted adviser to majority leader Harry Reid, whose job Schumer is often discussed as eventually being in line for.
"She won't really present a threat to him in any way," said one former Schumer staffer, speaking on background. "She's new. She's young.  She's not going to start out with any profile as opposed to a Cuomo or a Kennedy. She will give him no competition. I'm sure she's going to be deferential."
Still, Schumer also wanted someone who he thought would be an effective, if manageable, partner. At first, he had offered his tacit ascent to Caroline Kennedy, in part, perhaps, because of her relationship with the new president. (During the press conference, when Gillibrand left the stage to speak with Obama on the phone, and Schumer kept delivering his speech into the microphone, he told Paterson, "Tell him forgive me for reading.")
After Kennedy's candidacy became questionable, before ultimately imploding, Schumer reportedly threw his support behind Gillibrand.
"Chuck will respect the fact that she beat Sweeney and that she is a brawler," said another former Schumer staffer, referring to the Republican incumbent Gillibrand took out in 2006.  
One of the staffers also said that Gillibrand's strong contacts in New York City, where she worked as a lawyer for several white-shoe law firms, made her a more attractive addition to the 2010 ticket because of her ability to raise money. That's a skill that Schumer especially prizes.
Referring to her downstate connections, the former Schumer aide said, "One thing that was a problem for her in the first House race will be good for her now."
The former staffers agreed with the analysis of many Democratic political operatives and elected officials who, over the last few weeks, have said in private discussions that Schumer had a low opinion of some of the other senate candidates in the congressional delegation.
One of the former Schumer staffers referred to a Congressional member who had pursued the senate seat aggressively as a "dingbat."
For her part, Gillibrand, who has a reputation as a competent and unmistakably ambitious politician, made all the right noises regarding Schumer during  her introductory press conference.  
"Senator Schumer has been an inspiration to me," she said, adding that she looked forward to serving with him and hoped to "mirror" his performance in the senate.
Schumer, we can be sure, will work intently to help her realize that aspiration.
When Gillibrand returned from her phone call with the president, Schumer said, "Welcome back, no problem. Did you ask him about more money for water and sewage?"
—reporting from Albany by Jimmy Vielkind