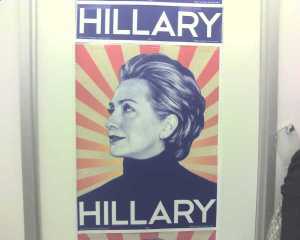 WASHINGTON–Hillary Clinton is celebrating her departure from politics with a new political poster.
On Monday afternoon, Clinton's supporters swarmed Bill and Hillary Clinton at the K Street headquarters of the Friends of Hillary P.A.C., which was papered with new posters showing Clinton's profile emanating sun beams. People carried around the rolled-up posters and clung to white t-shirts that said "18 Million Cracks" on the front and "Never Quit" on the back as they ate ham and vegetables and drank bottles of water.  An oak tag sign on one door read "Books and DVD's Available with a $100 donation." Another poster from the 2004 convention read "It Took a Village To Let Hillary Speak."
Supporters wearing "Hillary Rodham Clinton Support Network" buttons talked with Wesley Clark and other prominent supports of Clinton. A young woman signed a world map filled with messages like "'Hillary Thank you for inspiring so many women,'" Katie from Colorado." Others wrote similar messages on a map of New York.
The former president shook hundred of hands and posed for hundreds of pictures in one room. Hillary, who arrived late, did the same in another part of the large office.
Clinton adviser Ann Lewis said that the P.A.C. had moved into the new offices in the first week of November, having no idea that Barack Obama would select her as secretary of state. (They are renegotiating the lease, she said.)  Lewis said the political movement Clinton started would go on. But without her.
"Just look at all these people who have come from all over," she said. "A lot of history was made this year."
She pointed out friends from North Carolina, Oklahoma and New York and said that the campaign's legacy would be making women becoming a greater political force in American politics.
"Many of the friendships and connections forged and political skills learned during Hillary's campaign will still be in use, and will change the country" she said.
Asked if Clinton's political career was indeed over, Lewis said, "Right now she is thinking only of the State Department. You can't do that and try and keep politics in the back of your mind."