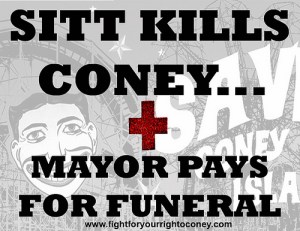 We told you last week about funky, fighting Coney Island boardwalk retailer Dianna Carlin getting evicted by landlord Joe Sitt's Thor Equities. And we told you about the rather accusatory literature (see above) circulating regarding Mr. Sitt and the Bloomberg administration's would-be development plans for the amusement district.
Now, the Daily News chimes in this morning with further details of how nasty, indeed, it's gotten at the end of the N line. To wit:
Lola Staar proprietor Dianna Carlin believes it was her outspoken criticism of Thor Equities that prompted the developer not to renew her lease, which ended last week.
"No one knows better than me how vicious and evil they are but it still astounds me," said Carlin, who said Thor official Sam Sabin told her, "We're kicking you out. Have a Happy New Year."
Sabin declined to comment.
We hate ourselves, but we can't help but watch.