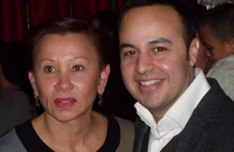 Dave Pollak, a former co-chair of the New York State Democratic Party who, more recently, ran Barack Obama's campaign in New York, is having a fund-raiser for City Council candidate Francisco Moya.
The event is taking place on February 9 at Pollak's home in Union Square.
Moya is running for the seat vacated by Hiram Monserrate, who was elected to the State Senate. There are a few other candidates running, most notably Jullisa Ferreras, Monserrate's former chief of staff.
This event helps Moya – a Democratic district leader – paint the race as one of progressive and grassroots activists versus the establishment, which, in this part of the city, is controlled by Monserrate's operation.
Ferreras has been endorsed by 14 City Council members, but she also was chair of the board of ran Monserrate's nonprofit, which is now being investigated.
Moya was endorsed recently by one of the city's largest gay political clubs, the Stonewall Democratic club.