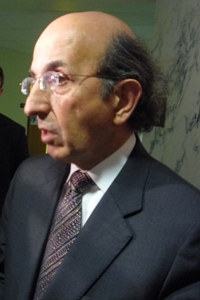 ALBANY—Of course Joel Klein can't come to Albany without getting asked about mayoral control, which is up for legislative reauthorization this year.
In a budget hearing this afternoon, Assemblyman Denny Farrell asked the question quite pointedly, saying Klein has done a good job representing the mayor but that he felt "tension" was needed in the schools leadership.
"I've never liked the term 'mayoral control,'" said Farrell, one of the ranking members of the chamber and chairman of the Ways & Means Committee. "Before, as the chancellor, they saw their job as being the voice of the people."
He was unspecific in his recommendation – the Assembly will be holding hearings on the subject, starting tomorrow in Queens – but thought maybe the creation of a "sub-chancellor, or super-chancellor, or uber-chancellor" would do the trick.
"I don't know who speaks for the parents…who speaks on behalf of them," Farrell said.
A few minutes earlier, Klein was asked by State Senator Suzy Oppenheimer about the debate over mayoral control.
"I think it will play out in a constructive way," Klein said. "We have to have further discussion about the details. But what I saw today was constructive engagement on something that matters, and I do believe and am reasonably confident that as this moves forward, we'll go forward with a system of mayoral control in the city, regardless of who the mayor is. It's been right for the city."
The Post has reported that Assembly Speaker Sheldon Silver doesn't like Klein, and that Klein's continuance in the post might jeopardize legislative re-authorization of mayoral control. I asked Klein if he wanted to stay on, even in the event of a change of administration.
"I've never had a better job — it's enormously rewarding to work for kids in a city like ours," he said. "I don't discuss my discussions with any candidates, any of them."
Klein was testifying at a budget hearing, and made the case that funding cuts would be more manageable – and would likely result in fewer layoffs – if state lawmakers would loosen restrictions on funding provided through contracts for excellence.