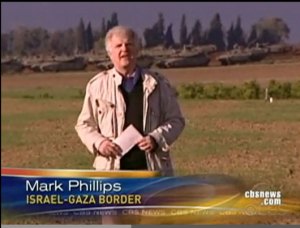 Shortly after 1:30 a.m. on the night of Dec. 29, CBS News foreign correspondent Mark Phillips stood on a rooftop, overlooking the city of Tel Aviv. Lights from the city's skyline flickered behind him. Through an earpiece, he listened to anchor Maggie Rodriguez, who was sitting in a studio in New York, filling in for Katie Couric on the CBS Evening News.
"The White House accuses Hamas of provoking Israel by repeatedly firing its own rockets into Israeli territory," Ms. Rodriguez was saying. "Mark Phillips went to the front lines along the Gaza-Israel border."
Three minutes later, the camera on the rooftop went live. "If the Israelis start taking casualties, then this whole operation starts to look sour in much the same way as the invasion of Lebanon two summers ago," said Mr. Phillips.
"Reminiscent of 2006," Ms. Rodriguez replied. "Thank you, Mark."
The segment ended. For the occasion, Mr. Phillips was wearing a navy V-neck sweater and a beige coat with big epaulets on the shoulders and baggie pockets on the chest. If he looked somewhat travel-weary, he could be forgiven. Some 48 hours earlier, he had been reporting from London, covering events in Europe, such as the cross-dressing robbers who had recently pulled off a jewelry heist in Paris.
Mr. Phillips is a seasoned, London-based reporter. But he is also—thanks to the thinly spread news-gathering operations at CBS News—the lead reporter on most of the network's stories in Israel. It's a beat that spans more than 2,200 miles.
On that chilly night a few days after Christmas, Mr. Phillips was standing on the roof of a commercial office building in central Tel Aviv that houses a number of media companies, including CBS's Tel Aviv bureau, its largest outpost in the Middle East.
Recently, on the eve of the outbreak of war in Gaza, the bureau got a lot smaller. In mid-December, CBS News executives broke some bad news to the employees at the bureau. Like seemingly everyone else in the media world, CBS News was undergoing some end-of-the-year cost cutting. Tel Aviv bureau chief Gaby Silon, cameraman Chris Albert—plus one editor-technician and one researcher-producer based in the West Bank—would be keeping their jobs. Everyone else was being let go. 
The bad news took many staffers by surprise. Roughly a dozen employees would be losing their jobs, including an editor, the head of finance, two cameramen, a sound person, a Palestinian producer, a Palestinian fixer and a number of office administrators. 
Many of those being let go had spent decades working for CBS News in the Middle East. Their ranks included highly respected cameraman Neville Harris and Issa Freij, a Palestinian producer who once took a bullet in the chest while covering a clash in Ramallah for CBS News in 1996.
According to sources, when CBS News London bureau chief Jennifer Siebens spoke to the newsroom about the layoffs, she broke down in tears.
Once upon a time, CBS News kept a full-time TV correspondent in Tel Aviv. For years, anytime the full-time Tel Aviv correspondent left the region, say, for a vacation, the network would try to rotate in a reporter from London just in case anything flared up.
But since 2006 when David Hawkins, the network's then-Tel Aviv correspondent, left the bureau, the position has been left vacant. For a short while, Kimberly Dozier, an experienced Middle East correspondent, continued to work in the region. Then in May of 2006, while on assignment in Iraq, Ms. Dozier was seriously injured by a car bombing in Baghdad.
Afterward, network executives decided not to rotate anyone else into Tel Aviv—leaving CBS News as the only one of the big three networks without a full-time correspondent in Israel.
Recently, The Observer caught up with Mr. Hawkins, who now serves as Asia Correspondent for Al Jazeera English. Mr. Hawkins said he thought highly of Mr. Phillip's skills as a reporter, but said he believed cutting the bureau's staff was bound to hurt the quality of the reporting in the long run.