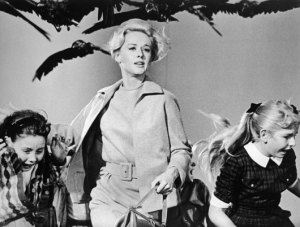 This is a bowel-curdling and volatile moment in history. Everything has gone all horrid and nasty. Between Tippi Hedren–esque aviation disasters, the Iranian nuclear threat and the ultimate horror of people not buying as many handbags and Louboutin shoes as I would like them to, I feel like I'm standing on the edge of a precipice, in dire need of a fresh pair of Depends.
There's only one way to get through this crappy period. It's time for a Pollyanna moment. It's time to play the Glad Game. For those of you not familiar with the Eleanor H. Porter book (don't worry, I have not read it, either) or the genius '60s movie (I've watched it an embarrassing number of times), here's the deal: Whenever things got dire, the titular heroine would extract some nugget of positivity, something to be glad about. Et voilà! The Glad Game.
The most obvious example: The world may be on the brink of war/financial collapse, but at least we now have a good-looking, intelligent bloke in the White House. I cannot imagine him invading countries willy-nilly or leaving his DNA on an intern's Gap frock. Bon appétit!
More opportunities for gladness:
Anorexic magazines: During the luxury boom, I grew accustomed to those hernia-busting periodicals that clogged my mail slot every month. When the new flimsy ad-starved fashion mags appeared, I found them vaguely sinister, an uncomfortable reminder of the evaporating luxury economy, and of laid-off chums. Now, as I look for stuff to be glad about, I'm loving the fact that you can once again swat a fly or a cockroach with a folded fashion magazine.
Fine dining: I'm sorry that so many food industry folk are hurting, but I'm glad I no longer have to coerce/tip/shag/graft my way into the groovier eateries around town: "A four-top? Right this way, sir … or madam?" (My new fuchsia Paul Smith Peruvian chapeau is causing a little gender confusion among Manhattan maitre d's.)
Welcome to Ponzi World: The fact that the entire Western world has been revealed to be one giant screaming pyramid scheme is depressing. On the glad side, reading the daily news coverage thereof is a total blast! Even The New York Times has joined the scandal-fest! After years of relentlessly journalistic tedium, the Old Gray Lady is now chock full of sizzling ripple-effect stories of financial mishegoss and perfidy. I enjoy them with my morning gruel.
All you need is loathe: Being able to collectively loathe people like Bernie Madoff has enabled us all to stop looking for reasons to loathe each other. It's a Kumbaya moment. Kind of makes you want to run out and buy an acoustic guitar, build a campfire and start Joni Mitchell-ing your brains out. Non?
To recap: The recession has clearly pushed the restart button on many aspects of our lives, producing not only hair-raising challenges, but also gladness aplenty. You just have to truffle around a bit in order to unearth the tasty bits.
There is, however, one seemingly recession-proof glad-free zone that is in dire need of a rejigger: I refer to those horrible stuck-in-a-rut red-carpet awards shows. Those stingy celebs are still, even as fashion bankruptcies proliferate, borrowing gowns instead of buying them, thereby missing a meaningful opportunity to bail out the ailing fashion industry and reciprocate all those years of freebie chiffon.
One hopes that by the time the Oscars rolls around they—Anne, Meryl, Kristin, and who's the other one? Angelina!—will have pried open their handbags and, with their hearts filled with gladness, spent some of that "hard-earned" cash. 
P.S. I'm glad that my Depends are metaphorical.
sdoonan@observer.com