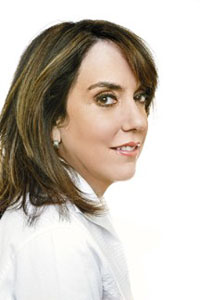 The New York Times reports the astonishing news that Sara Nelson, the editor-in-chief of Publishers Weekly, has been laid off amid a restructuring at troubled parent company Reed Business International (RBI) that will see a 7% staff reduction.
Over the course of her four years at Publishers Weekly, Ms. Nelson has come to serve as something of a den mother for an industry that, on its worst days, seems to be crumbling. Her ubiquity on panels dedicated to the future of books and her largely unflappable public optimism about the health of the business has made her one of publishing's most visible cheerleaders.
The restructuring comes several months after Reed Elsevier, which owns RBI and has been trying to sell it since last February, reportedly lowered the price tag for the property to less than $1 billion dollars—just half of its initial asking price. At the time, Bloomberg reported that Reed CEO Crispin Davis would "either cancel the sale of Reed Business Information"—which is made up of about 400 magazines, including Variety—"or choose a bidder for final talks in coming weeks." In December, word came that Reed, having "judged it not possible to structure a transaction on acceptable terms," had "terminated discussions with potential bidders." 
What Ms. Nelson's firing means for the future of Publishers Weekly is unclear. Attempts to contact people at the magazine (including a call to Ms. Nelson) have so far gone unreturned.
Salina Le Bris, a corporate spokeswoman for Reed Elsevior, declined to comment, referring all questions to the short statement issued by the company earlier today. That statement did not mention specifically the elimination of Ms. Nelson's position or give any indication as to whether she would be replaced.
In what may be her final column for Publishers Weekly, which came out this morning, Ms. Nelson sounded a message of hope for the future: "We have to keep doing what we do," she wrote. "We may need to change the format or the frequency or the style of what we publish, but people will not stop publishing or reading, no matter what. We have to keep finding new ways to reach the thousands of people who feel the same way we do. Book people are book people are book people, after all—and no amount of recession or depression or worry will ever change that fact."
UPDATE: According to a memo sent to staff this afternoon by Ron Shanks, who oversees the four publications at RBI that deal with the book business, Ms. Nelson's duties will be taken over by Brian Kenney, currently the editor of School Library Journal.  
Mr. Kenney is being promoted to editorial director of the entire publishing group, which also includes Publishers Weekly, Library Hotline, Library Journal, and its Spanish-language iteration Criticas.  
According to the memo, Mr. Kenney will retain "day-to-day management of School Library Journal, as well as oversight of Library Journal and Publishers Weekly editorial strategy, staffing and execution."  
One wonders what kind of execution is meant.