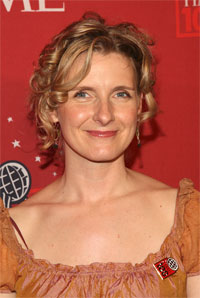 This weekend, The Guardian featured a profile of Eat, Pray, Love author Elizabeth Gilbert. In the story, headlined Lucky Me, Emma Brockes offers a hard-edged take on the journalist-turned-memoirist, writing, "There are lots of paths to self-discovery, but most of them don't conflate so many lucrative book markets in one handy volume. Eat Pray Love elides self-help, self-improvement, mysticism and a strain of confessional publishing I once heard described as 'women who write about their yeast infections'…"
Ms. Brockes is hardly the first person to throw a bucket of cold water on the phenomenally successful Ms. Gilbert. USA Today's Carol Memmott wondered in February 2008 Pray tell: Is Elizabeth Gilbert self-absorbed or true seeker?; The New York Post's Maureen Callahan offered her take on the book under the unambiguous headline EAT, PRAY, LOATHE in December 2007; and Slate's Katie Roiphe wrote, "I have to admit that I felt a twinge of embarrassment on the subway when I opened Elizabeth Gilbert's Eat, Pray, Love…" in July 2007 assessment. (Don't feel too bad for Ms. Gilbert: Eat, Pray was an international bestseller; Oprah Winfrey has backed the book; Time Magazine anointed the writer one of its Time 100 in 2008; and a talented up-and-coming actress named Julia Roberts is attached to star in the movie version.)
Buried in Ms. Brockes' profile is this interesting quote from Ms. Gilbert, who has been nominated for a National Magazine Award three times:
'I have no business being a journalist. I'm the least, I'm the least — I'm the most trusting, I absolutely make a habit of believing anything that anybody tells me about themselves. I've never had any reason in the world to think that anyone has wanted to harm me, or lie to me. I believe whatever is being sold, most of the time.'
Ms. Gilbert also says that while living in New York and writing for magazines like Spin, GQ, The New York Times Magazine, and others, "I had to put on a cynical personality that really wasn't me, to be a little bit more sarcastic than I am."