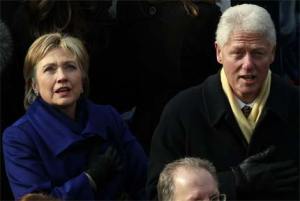 On Inauguration Day, Obama's roommate from college emerges with much praise and a few pictures that the new president is probably glad didn't get out earlier.
In a letter delivered before the ceremony, Nelson Mandela told Obama he is the "new voice of hope."
After collapsing at a luncheon, Ted Kennedy appears to be doing OK.
Here was the scene in Times Square.
And off went the Bushes to Texas.
THE CLINTONS WERE HAPPY.
It might seem a bit undignified, but House members did the wave for Rahm Emanuel.
Chuck Schumer said Obama is a "moderate activist," which may or may not help him.
At least one member of the New York Congressional delegation had the good sense to stay put.
David Paterson, who seems to having a little fun with this, suggested he might appoint Michelle Obama to fill Hillary Clinton's Senate seat.
Which is another way of saying he's still not sure.
Also today Senecas got permission to keep open their Buffalo casino, and open a much bigger one–they say the timing is incidental.
The least useful debate of the day: who stumbled during the presidential oath.
The Obama administration is removing restrictions on the White House site and search engines.
Even in the Obama era, Rush Limbaugh will be that guy.
The future is: Val Kilmer for governor.