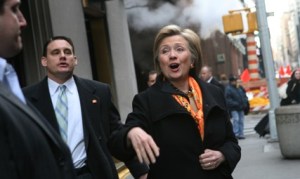 Kirsten Gillibrand announced she's closing her House campaign account and opening a Senate one, so she can raise more money.
She's already started fund-raising.
She won't get a seat on the Armed Services Committee, but perhaps she'd like one of the three slots on the Aging Committee.
Progressive blogger Phil Anderson is starting to think about how to keep Gillibrand's seat Democratic.
Michael Bloomberg strongly condemns all this Kennedy sliming.
Chuck Schumer and Maggie Brooks announced that the RenSquare project will go forward, although the funds for the theater part aren't secured yet.
A Rochester blogger is still not convinced it's a good idea.
Plans for the rail tunnel from New Jersey are on track, assuming $3 billion of federal money is forthcoming.
David Paterson is releasing $5 million for "green" job training.
Through a spokesman, Hillary Clinton condemned Robert Mugabe.
Confirmation hearings for C.I.A. nominee Leon Panetta will be delayed because he failed to file proper paperwork. Politico notes he did have a death in the family recently.
White House email went down for five hours. "[R]eally, what an embarrassment," writes Ben.  
Green interviews Spitzer. Riley is not amused.