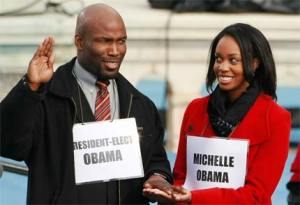 Tom Suozzi switched his support to Obama relatively late, but he backed it up with money, too.
Hillary Clinton's speech at an EMILY's List event yesterday was well-reviewed.
Julissa Ferreras, running for Hiram Monserrate's City Council seat, says Willets Point is years off, but she would try to make it happen as soon as possible.
Jill Biden says on Oprah that Joe Biden was also offered the position of secretary of state, but picked V.P.
The inauguration will cost $170 million.
Jen Chung notes that Bloomberg donated $500,000 to the Independence Party around the same time he was quietly lobbying newspaper publishers to support his extension of term limits.

The Times is asking Carlos Slim Helu for an investment of millions.
Here's Aaron Schock, the youngest member of Congress.
Ben doesn't think Gene Robinson's invocation is really a balance to Rick Warren.
But it will be rebroadcast on the Mall tomorrow.
Louise Slaughter's district makes Slate's list of the most gerrymandered./
Obama painted today.
George W. Bush commuted two sentences.