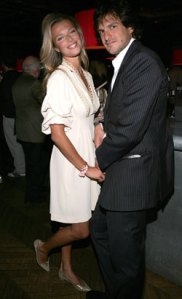 Harking back to the blissful days of yore, when money-drenched financiers flipped their recently bought real estate to well-tanned out-of-towners for hilarious multimillion-dollar profits, Carren and Jeffrey Hendren have sold their townhouse at 45 East 74th Street for $10 million, $2.25 million more than they paid in June 2007.
That year, Mr. Hendren co-founded S.A.C. Private Capital Group, a fund connected to the billionaire Steven A. Cohen, who owns, among other things, Damien Hirst's The Physical Impossibility of Death in the Mind of Someone Living (the shark in formaldehyde), which Mr. Cohen once said would be displayed in his offices, though it ended up at the Met.
Mr. Hendren's new job has meant he's spent a good deal of time in Asia (where, for example, his group now owns a massive stake in Taiwan's Cosmos Bank), which means, according to his broker, he was willing to sell off a house that would have taken quite a bit of work to renovate. "Obviously," Warburg Realty senior vice president Richard Steinberg said, "he didn't need such a large project."
The house was bought by a limited liability corporation called Antarctica, whose manager is listed in records as Valerio Morabito, an Italian film producer. That name periodically pops up in New York gossip columns, i.e., this from the Post: "Veronica Varekova and Elsa Benitez shared more than just a 2006 Sports Illustrated Swimsuit Issue cover—the models have both shared a bed with Italian movie producer Valerio Morabito." The producer, whose family fortune reportedly springs from construction, was one of the investors in the famously doomed restaurant chain Fashion Café.
His architect, Joseph Pell Lombardi, is in charge of transforming what had been a multi-unit building into a single-family house, which means replacing what is now a frumpy brick facade with "classically inspired limestone" and a stoop. Inside, he said, will be a full-floor master's suite with a study, four bedrooms, a maid's room, a gymnasium, wine cellar and a hot tub on the roof.
Hot tub or no, Mr. Morabito won't be keeping the house. "Now we're going to resell it," Mr. Steinberg said. "Yeah, because he has a bigger project. I can't really talk about it."
mabelson@observer.com