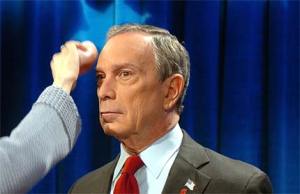 Michael Bloomberg–who did not make an endorsement in the presidential race–is going to be doing a lot of talking about Barack Obama in the next couple of days.
Bloomberg's office just sent out an updated schedule showing a round of television interviews with local TV stations, which an aide to the mayor said are on the topic of Obama's inauguration.
It provides a little more evidence for Wayne Barrett's theory that Bloomberg is trying to cozy up to Democrats before his re-election.
MONDAY, JANUARY 19, 2009
5:00 PM Pre-Taped Interview Airs on CBS 2 News at 5 WCBS 2
5:20 PM Live Interview airs on Eyewitness News at 5 WABC 7
6:00 PM Pre-Taped Interview airs on 4 New York News at 6 WNBC 4
6:00 PM Pre-Taped Interview airs on Fox 5 News at 6 Fox 5
6:00 PM Pre-Taped Interview Airs on Noticiero 47 a las 6 Telemundo 47
7:00 PM Pre-Taped Interview Airs on NY1's Inside City Hall NY 1