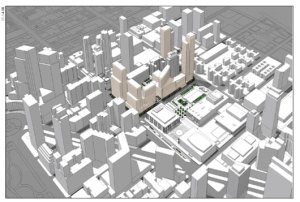 A well-organized group of residents near Fordham University's Lincoln Center campus are gearing up with a team of consultants and lobbyists to fight the school's expansion plans.
The residents, who have formed a group known as Fordham Neighbors United, have brought on land-use attorney Howard Goldman, the lobbying firm Capalino + Company, and the political strategy/PR firm Knickerbocker SKD. (The latter, led by Josh Isay, is also representing Caroline Kennedy in her bid to be named to Hillary Clinton's U.S. Senate seat.)
The residents are opposed to a plan by Fordham to add 2.35 million square feet to existing campus, which is on a spacious two-block "superblock" bounded by 60th and 62nd streets and Amsterdam and Columbus avenues. The plan is at the start of the city's seven-month land-use approval process, which ultimately needs approval from the City Planning Commission and the City Council. Community Board 7 is slated to give a non-binding vote on the topic next Wednesday (a draft resolution is here).
The move by the residents marks a rare step in land-use battles. Mimicking the movements typical of a developer who faces community opposition, the residents are paying relatively high sums of money to the consultants—Capalino is on an $8,000 monthly retainer, according to lobbying records—apparently to lean on the City Planning Commission, elected officials and the public.
Fordham—which has retained Greenberg Traurig to do its land-use law and consulting—wants the expansion to build more dorm and academic space for what it says is a very space-starved student body. The expansion would happen entirely on Fordham-owned land, though public approvals are needed to change a decades-old site plan that limits building sizes and heights, among other reasons.
Concerns of some of the residents are articulated in a seven-page paper e-mailed over by Sidney Goldfischer, president of the board of managers at the Alfred, the condominium building adjacent to Fordham's campus.
From Mr. Goldfischer's document:
The basic concept behind the Master Plan and its current execution are totally inconsistent with the letter and spirit of the basic principles upon which the campus was created and therefore is fundamentally flawed. Consequently, any attempts to improve the Fordham Master Plan by mere modifications are destined to be inadequate and futile.
…
The wall of skyscrapers and high rises that Fordham hopes to build on West 62 Street will break forever the link between the Collegiate Center and the Center for Performing Arts.
…
The list of flaws in massive Fordham Master Plan is long. These include:
1) massive bulk and height of the buildings (see page 5),
2) unacceptable residential density resulting from 1,465,000 sq.ft. of housing.
3) retention of the Podium that separates the campus from the community.
…
15) the inappropriate isolation of the campus from Lincoln Center for Performing Arts with which it was designed to be integrated."