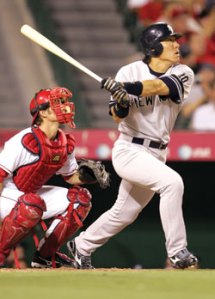 Hideki Matsui, a Yankee slugger so wonderfully modest that he once publicly apologized for fracturing his left wrist during a failed sliding catch ("I feel very sorry and, at the same time, very disappointed to have let my teammates down"), apparently has non-modest real estate tastes.
According to sources, Mr. Matsui has paid $10.5 million for a penthouse at the Heritage, one of the high-rises in the gapingly enormous Trump Place development on Riverside Boulevard. Real estate records show that he still owns a 52nd-floor apartment at Trump World Tower across town, which he bought for $3,157,900 in 2005.
The Trump-Matsui connection transcends real estate: "Imagine if every employee felt that way about his or her job," Mr. Trump wrote on Trump University's Trump Blog after the athlete's injury apology. "Imagine if they had that kind of loyalty and apologized every time something went wrong. That would really be an ideal world and boy would we be surrounded by great people."
The ballplayer's sellers are Deborah and Rocco Landesman, the Broadway tycoon. The couple paid less than $4.3 million for the penthouse only two and a half years ago: "My youngest son can have a place to stay when he's home from boarding school, and so forth," Mr. Landesman, who produced Angels in America, Proof and The Producers, told The Observer then.
The couple's penthouse hadn't been on the market when it was sold late last year, but according to old floor plans the 2,675-square-foot condo has three bedrooms (though the third is also listed as a library).
The Landesmans also charged $25,000 for a storage unit. Sales deeds for the penthouse and that storage space were filed in city records under an anonymous corporation name, Nana Capital. Mr. Matsui's agent would not comment; Donna Olshan, said to be Mr. Matsui's real estate broker, denied that he had bought an apartment.
mabelson@observer.com