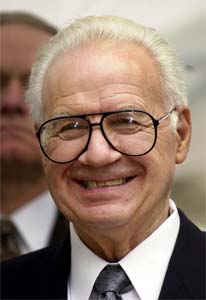 Guy Molinari, the lead plaintiff in the lawsuit to block Michael Bloomberg's term-limits extension, has decided to drop out of the appeal, which was filed in federal court today.
"He was the one plaintiff of the 27 who decided he did not want to go ahead with the appeal," which was filed today in federal court, said one of the attorneys on the case, Norman Siegel.
Molinari is a Bloomberg ally and his participation in the lawsuit was surprising at the time. An attorney at Molinari's office said he was not available this evening.
Siegel said it won't affect the legal standing of the case, nor the public perception surrounding their efforts because "we have 27 other plaintiffs, community leaders, candidates, people who want to be candidates and good government groups. When you have a broad and diverse coalition like we have, the fact that one decided not to go forward, I don't think that'll make much of an impact."
The lead plaintiff on the case now is City Comptroller Bill Thompson, who is running for mayor.