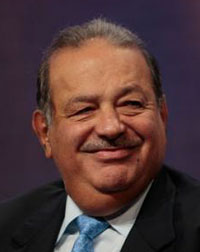 Two weeks ago The Atlantic's Michael Hirschorn crunched some numbers and determined that the New York Times Company might be in such bad shape it could be forced to cease printing The New York Times "like, this May."
Mr. Hirschorn's essay resulted in much hand-wringing in Medialand: Portfolio's Felix Salmon re-checked Mr. Hirschorn's numbers; The Times' SVP of corporate communications Catherine Mathis sent The Atlantic a point-by-point rebuttal, which Mr. Hirschorn responded to; etc.
Now comes word that the Times Company may seek the help of Mexican billionaire Carlos Slim Helú, who bought 6.4 percent of the company last year.
According to The Wall Street Journal's Matthew Karnitschnig and Russell Adams, Mr. Helú, who is one of the world's wealthiest men, is involved in ongoing talks with the company about a preferred stock deal:
Under this scenario, the Times Co. would issue Mr. Slim preferred stock, which carries no voting right but pays an annual dividend, in return for his investment. The investment would be similar to a loan. Preferred shares are often convertible into common stock after a defined period.
The Times' Andrew Ross Sorkin—whom The Atlantic's Mr. Hirschorn singled out as a writer who'd be better off leaving the paper—is also reporting on the possible deal, which he says could be worth "about $250 million":
The company's board is expected to meet on Monday to approve the deal, these people said, and an announcement could be made as early as Tuesday. However, these people also warned that several details still needed to be completed and that it remained possible the agreement could collapse.