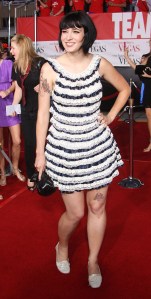 Attention, Diablo Cody haters: Get your knives out! The stripper turned blogger turned Oscar winner is back this month with the Showtime series United States of Tara. The show doesn't premiere until Jan. 18 at 10 p.m. (following the derisible Secret Diary of a Call Girl), but you can watch the pilot episode right now in the VIP section of Showtime's Web site (use the password "TARA" when prompted).
Toni Collette stars as the titular Tara, a suburban housewife and mother of two who is affected with dissociative identity disorder–better known as multiple personalities. When the stresses of everyday life become too much for her to handle, Tara retreats into one of three other people: T., a slutty and drug-addled 15-year-old girl; Buck, a beer drinking, gun crazy trailer trash man; and Alice, a '50s housewife. Think Sybil but with intricately detailed costume changes. While Tara plays like a funhouse of the bizarre, the weirdest part might be that it was all hatched from the mind of Steven Spielberg. Yep, that Steven Spielberg.
Based on what we've seen, we're not sure what to make of United States of Tara or its screenwriting wunderkind. At times the pilot felt like an episode of Weeds, but without the great Mary-Louise Parker ruling over everything with an iron-plated cup of Diet Coke. Under the direction of Craig Gillespie (Lars and the Real Girl) everything seemed too pedestrian. Additionally, Ms. Cody's words didn't have the snap-crackle-pop that they did in Juno. That could have something to do with the casting. Everyone is fine–Ms. Collette, John Corbett (as Tara's supportive husband), Brie Larson (a Teri Polo look-alike, as their sex bomb daughter) and Keir Gilchrist (as their film-addicted son)–but they aren't Ellen Page, Jason Bateman, Allison Janney, Jennifer Garner and Michael Cera. And while Ms. Cody is clearly talented, she is still a very green writer who is prone to incredibly tin-eared dialogue. We'd have thought with Mr. Spielberg as her boss, some of her rough edges would have been smoothed over, but based on the pilot, that doesn't seem to be the case. Apparently, once you're an Oscar winner, people don't want to tell you what to do. Still, it would be foolish to write off United States of Tara on first viewing–the talent behind it is too strong for it to be an outright failure.
Ms. Cody plans on doing a live Twitter stream of the premiere episode (you can follow it here), which should be interesting if only so she can explain why she thought it would be a good idea for one of the characters to call another a "hosebeast." Dialogue like that would even cause Juno to cringe.