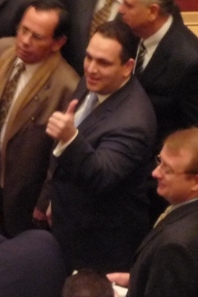 ALBANY—Hiram Monserrate, who was sworn in as a state senator last week as he faces a felony assault charge, will be able to keep his chairmanship of the Consumer Protection Committee.
Austin Shafran, a spokesman for Majority Leader Malcolm Smith issued this statement:
At Senator Monserrate's request, Senator Smith has determined to defer any payment of committee chairmanship stipends until the criminal charges have been resolved. We need the committee's work to go forward, and Senator Monserrate's participation is necessary to achieving that goal.
Monserrate will receive a $12,500 stipend for chairing the committee. He was in Albany today as the chamber convened to consider various resolutions, Shafran said. The determination drew an immediate rebuke from State Senator Marty Golden, a Republican, who circulated a resolution calling on Monserrate to forgo his oath of office until the charges are resolved.
"To just have to give up a few bucks is insulting to victims across the state," Golden said. "I don't think he should have gotten the chair. He's still going to be making decisions that affect the citizens of this great state. It's crazy that he's been given this prestigious committee and assignment. It's wrong. It's just plain wrong."
(Golden is no longer a committee chairman.)
Monserrate denied the charge, and the woman he is accused of assaulting has changed her story to police.
Update: Someone close to Monserrate offered this explanation for his behavior.
"Senator Monserrate says this was an accident and his girlfriend says this was an accident," the source said. "He regrets that an accident is being turned into a political sideshow. So if the stipend is going to be an issue he's taking it off the table. And he's sure these false charges will be dismissed when the truth about the accident comes out."