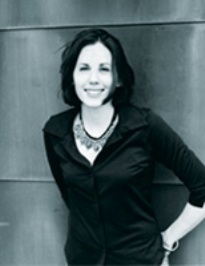 Viking beat out seven other houses the other day in the battle for Angelology, the debut novel by Falling Through the Earth author Danielle Trussoni that's supposed to have massive commercial appeal and sell a gazillion copies just like The Da Vinci Code. According to Publishers Weekly, which reported yesterday that the deal was worth a sum in the high six figures, the book "follows a young nun in upstate New York who, in uncovering a correspondence between the former mother superior and Abigail Rockefeller, unwittingly reignites an ancient war between a society of angelologists (a group that studies angels) and the Nephilim (the monsterlike descendants of angels and humans)."
Congrats to Viking for pulling out a win. Except! The real fun's just getting started, because it's not just one editor who wants the book but two, and the author has to think about it now and decide who she wants to work with.
In the ring: Molly Stern, who is Viking's editorial director for fiction, and Pam Dorman, who racked up hits at Viking for 19 years before leaving for a brief stint at Hyperion, and then returning to start her own eponymous imprint. Ms. Dorman has made best sellers out of books like The Secret Life of Bees, Bridget Jones's Diary, The Memory Keeper's Daughter and Must Love Dogs.
Eric Simonoff, the literary agent who represented Ms. Trussoni on the deal, said yesterday that his client is in the process of making her choice.
It's kind of a loaded thing. Because Ms. Dorman and Ms. Stern tend to overlap so much in sensibility—and because both are thought major editors with very strong track records—Ms. Stern was the first person many publishing observers thought of when it was announced last summer that Ms. Dorman had decided to give up on the Hyperion experiment and come back to Viking.
One wondered at the time whether the two women would collide in pursuit of marquee books. As far as anyone we talked to yesterday knew, Ms. Trussoni's book is the first major title to inspire such a showdown.  
According to Mr. Simonoff, Penguin made an offer on behalf of the whole house early Tuesday. At that point, the bid represented interest from three Penguin editors—Ms. Stern, Ms. Dorman and Amy Einhorn, who runs her own imprint at Putnam. That bid didn't do it for Mr. Simonoff, though, and some hours later Penguin came back with a better one, this time without Ms. Einhorn in the mix.
Is it kind of uncomfortable that two editors from the same imprint are competing for the same book? Aren't there rules to prevent this situation from arising?
Publicists at Viking did not comment, saying they were not familiar enough with the details to say anything, and neither Ms. Stern and Ms. Dorman returned calls seeking comment. Mr. Simonoff, for his part, said yesterday that everyone is just "learning as [they] go."
"In days past there'd be a scramble within 375 Hudson and only one house would be designated as the bidder," he said. "That's clearly changing."
Did he have any sense of who Ms. Trussoni was leaning towards?
"I saw her for lunch—she had flown in because she was planning on coming to the city anyway—and as of lunchtime she had absolutely no idea how she was going to make that decision or who she was going to be edited by," Mr. Simonoff said.