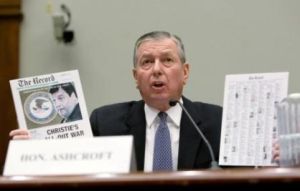 The House Judiciary Subcommittee on Commercial and Administrative Law, which subpoenaed former U.S. Attorney General John Ashcroft to testify on deferred prosecution agreements and a multi-million dollar federal monitoring contract he received after leaving the Bush administration, has a new chairman. U.S. Rep. Linda Sanchez (D-Calif.) has left the Judiciary Committee for a seat on Ways and Means, and has been replaced by U.S. Rep. Steve Cohen (D-Tenn.), a Memphis lawyer who spent 24 years in the State Senate before winning a congressional seat in 2006. Cohen, whose rise in the House has been extraordinarily fast, is a member of the Democratic leadership; he serves as a Regional Whip.
The subcommittee is expected to resume their review of federal monitors this year, according to congressional sources. In March 2008, the panel decided against issuing a subpoena to then-U.S. Attorney Christopher Christie, who resigned last month and is now a candidate for the Republican nomination for Governor. Democrats expect Christie's decision to give a no-bid contract to Ashcroft – estimated to be worth as much as $30 million in fees – to be a campaign issue.
In a combative exchange with Sanchez last March, Ashcroft jumped to Christie's defense.
After Sanchez asked whether the selection process complied with the type of guidelines the Justice Department laid out yesterday, Ashcroft said that she was implying that Christie was a "law violator."
"I really don't believe that Mr. Christie is a law violator. His record as a prosecutor is an outstanding record," Ashcroft said.
Ashcroft then held up two copies of Bergen Record headlines about Christie's public corruption convictions and insinuated that there were partisan motivations behind today's hearing.
"He's made a major reputation attacking public corruption, and for this committee to attack him is inappropriate," said Ashcroft. "Here's Mr. Christie's record in the newspaper. 140 convictions. No wonder New Jersey's politicians are nervous."
Ashcroft also reinforced that his monitorship is paid completely by private corporations, not taxpayers.
"This hearing costs far more in tax dollars than my monitorship will cost in tax dollars, because not a thin dime is public money," he said.