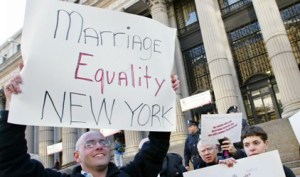 For all the accounts of the last-minute machinations that went into the selection of Kirsten Gillibrand as New York's new senator, we haven't heard much about the sudden willingness of some gay-rights activists to vouch for her.
Apparently, this was a prerequisite.
Hours before Governor David Paterson called Gillibrand to inform her that she would replace Hillary Clinton in the Senate in the early morning hours of Jan 23, a member of the governor's camp reached out to Gillibrand to inform her that she needed to improve her lackluster standing with gay groups before she could win Paterson's appointment, according to one Democratic source.
"There are two key leadership points that could provide the cover that you need," Gillibrand was told by a Paterson ally, according to the source.
The "leadership points" in question were Empire State Pride Agenda Executive Director Alan Van Capelle and Council Speaker Christine Quinn.
At around 5 p.m., Gillibrand and Van Capelle started playing phone tag. They finally connected at around 8 p.m.
"I want to start off by saying that I'm in favor of marriage equality," Gillibrand began the call, according to Van Capelle.
Van Capelle said that position was news to him, as she had held a more conservative stance during their last discussion years earlier. But Van Capelle said he was confident that her position had evolved over time, and not just in the hours before their conversation.
"She did not suddenly have her come-to-Jesus moment overnight," he said.
Asked if he reported his conversation with Gillibrand back to anyone in the Governor's office, Van Capelle declined to comment.
According to Quinn's spokeswoman, Maria Alvarado, Gillibrand and Quinn also had a "productive conversation."
Paterson's advocacy for gay marriage has helped secure his popularity with progressives downstate. But with gay marriage legislation unlikely to pass this year, Paterson apparently worried that appointing a senator with a weak record on gay issues would further erode his record and threaten that support.
Gillibrand would seem to have been far from ideal in that respect. As late as the day before her selection, she had the lowest rating of all of New York's Democratic representatives from the LGBT advocacy group the Human Rights Campaign, which gave her dismal marks for her opposition to gay marriage, the repealing of "Don't Ask, Don't Tell," and legislation to grant same-sex partners of U.S. citizens and permanent residents the same immigration benefits of married couples.
As Gillibrand called Quinn and Van Capelle, Paterson went about the business of delivering bad news to the other candidates. He made a round of calls at 5 p.m. to tell longshot candidates like Danny O'Donnell that they were not his choice. More serious candidates received their calls after 10 p.m.
But he kept one candidate as an alternate. Even after midnight, Randi Weingarten, the openly gay teacher's union leader, had still not been told by the governor that she was out of the running. While Weingarten, whose mother is very ill, waited to hear if she would be the next Senator, Van Capelle and Quinn had apparently extracted enough guarantees from Gillibrand to give their support.
With that obstacle cleared, Paterson could pick Gillibrand. He called her at around 2 a.m.
"Good morning senator," he said, according to a source close to Gillibrand.
The morning of Gillibrand's selection, Van Capelle released the following statement. "After talking to Kirsten Gillibrand, I am very happy to say that New York is poised to have its first U.S. Senator who supports marriage equality for same-sex couples," said Van Capelle. "She also supports the full repeal of the federal DOMA (Defense of Marriage Act) law, repeal of Don't Ask Don't Tell (DADT) and passage of legislation outlawing discrimination against transgender people. While we had a productive discussion about a whole range of LGBT concerns, I was particularly happy to hear where she stands on these issues."
Hours later, during a press conference to introduce herself as the state's next senator, Gillibrand stood on a stage with many of the state's elected officials and, to reporters and television cameras, stated a position on gay issues that seemed to go further than Clinton before her and Chuck Schumer, standing next to her.
"I will strive for marriage equality," she said.