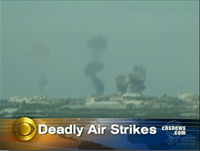 Earlier this week, we wrote about heavy cuts that CBS News made to its Tel Aviv bureau shortly before the outbreak of war in Gaza.
The layoffs come at a time when just about everyone in the media is suffering from a serious downturn in advertising.
So how much money will CBS News save by reducing a once bustling bureau down to a bare-bones staff, which will henceforth consist of a bureau chief, Gaby Silon, one cameraman, one editor-technician and one researcher-producer based in the West Bank? 
According to a source with knowledge of the CBS budget, in recent years, CBS News has spent roughly $4.2 to $4.3 million dollars annually on the Tel Aviv bureau. That figure represents in the ballpark of 1 percent of the entire budget for the news division. 
So depending on an number of variables—how long the conflict in Gaza continues, how many freelancers CBS News has to employ throughout the year to maintain its coverage, etc.—the division probably stands to save somewhere in the range of a couple of million dollars a year.
CBS is hardly the only network looking to curtail expenses on overseas reporting. Yesterday, The Hollywood Reporter's Paul Gough broke the news that ABC and the BBC are expanding their partnership in Iraq, allowing ABC News to reduce its day-to-day presence in the war zone. 
From the story:
ABC will continue to have a Baghdad bureau, though there will be fewer employees than there have been since the war began in 2003 and no full-time correspondent. ABC News will continue to have correspondents covering the war in Iraq, for larger stories like the upcoming elections as well as when the situation warrants.
'We will have a presence but significantly less than there was before," an ABC News executive who declined to be named told The Hollywood Reporter. "This is more of a reallocation of resources so we're not spending money for a substantial presence on the ground waiting for something to happen.'