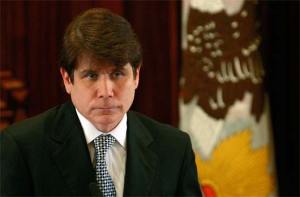 It's not every day that I find myself agreeing with Geraldo Rivera, Rod Blagojevich and basically no one else. But on the basic question of the fairness of the Illinois governor's impeachment trial, they're right. It's not fair.
Don't read this as an effort to exonerate Blagojevich. He oozes sleaze and it's hard to believe he's not guilty of serious corruption. But his impeachment and near-certain conviction by the Illinois Legislature—possibly as early as Thursday—is premature and sets a terrible precedent for how to go about removing a governor accused of abusing his office.
Right now, Blagojevich hasn't even been indicted, much less convicted of any crimes. Instead, the basis for his impeachment comes from a 76-page affidavit released by federal prosecutors when they arrested the governor in early December. According to the prosecutor appointed by the Illinois House, David Ellis, that affidavit alone is enough to establish that Blagojevich "put his office up for sale."
There are some serious problems with this approach. First, while the affidavit is dressed up with numerous juicy quotes from secretly recorded phone calls involving Blagojevich and his top aide, it does not include a complete transcript of every call. Nor are the feds willing to release the actual tapes. U.S. Attorney Patrick Fitzgerald has refused to allow the legislators weighing Blagojevich's fate access to the tapes; he consented only to the playing of snippets from four conversations during the impeachment trial, totaling just six minutes. Fitzgerald's rationale: Giving away anything else could spoil the case he has yet to bring.
Fair enough. But that put Daniel Cain, one of the F.B.I. agents who investigated Blagojevich, in an awkward spot when he was called to testify at Blagojevich's impeachment trial in the Illinois Senate this week. Rather than shedding any additional light on the details of Blagojevich's alleged crimes, Cain would only testify to the validity of the recordings; that is, when the six minutes of tape were played, he verified for legislators that the voice they were hearing was Blagojevich's. He also declared that the affidavit was "true and accurate to the best of my knowledge"—without adding any context to any of the lurid allegations it contains.
This is not fair to Blagojevich—and, more importantly, it wouldn't be fair to anyone in his position in the future. Just like the legislators who are trying him, he doesn't know what the feds have on tape, aside from what was presented in the affidavit.
Look at it this way: Fitzgerald, quite reasonably, is withholding most of the evidence against Blagojevich, saving it for an eventual indictment and trial. But how, then, is it fair to demand that Blagojevich answer to the feds' charges—which are the basis for this impeachment—before then? As a potential criminal defendant, shouldn't he have the same right not to make his case until he's in a court of law?
As ridiculous as it might seem, Blagojevich has suggested that his defense will hinge on a full airing of the feds' recordings—that, considered in context, the profane and explosive quotes published in the affidavit will seem far less damning.
"I can't confirm or deny anything when I haven't had a chance to hear all the tapes," Blagojevich has said. "Under no circumstances was I trying to sell a U.S. Senate seat. Under no circumstances did I break any laws, and what I'm looking forward to is an opportunity to make my case."
In the Senate trial that he has boycotted this week, Blagojevich would not have had that opportunity. He would have had to answer specific questions from the House-appointed prosecutor about the episodes outlined in the affidavit—even though that prosecutor, like Blagojevich, doesn't have access to all (or nearly all) of the evidence that has been collected.
And if Blagojevich then answered those questions with specificity, he would run the risk of giving the feds more ammo for his trial, whenever that starts. (This is the reason so many legal experts were aghast at Blagojevich's decision to do television interviews this week; his words might come back to haunt him.) He also wouldn't have been able to call witnesses of his own choosing, whose testimony—again, however unimaginable it seems—might aid his defense.
Of course, it's easy for the Illinois Legislature to cut corners right now. Blagojevich was miserably unpopular even before his arrest. Everyone in the state wants him gone—yesterday. But it's particularly laughable to watch the Democrats in the legislature rushing this process along. Blagojevich is a terrible liability for them right now, but they've always known he was a lousy governor, and probably an unethical one. Maybe they should have said something about it in 2006, when they lined up behind him for a second term—instead of waiting until the voters learned about their party's dirty secret.