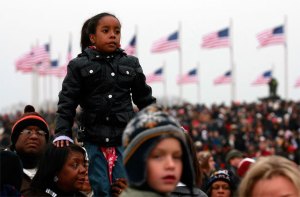 If you're going to be trapped in your cubicle for Barack Obama's Presidential Inauguration tomorrow, there are plenty of places to catch the celebration online. Mr. Obama's inauguration speech is scheduled to start at 11:30 a.m., but most sites will be streaming content all day.
The Joint Congressional Committee on Inaugural Ceremonies will be live-streaming the event. There's also a YouTube channel, official Twitter account, and Flickr photos, all run by the Presidential Inaugural Committee that will be updated throughout the day.
CNN has partnered with Facebook to provide live streaming and a Facebook window on CNN.com's Live channel will display your friends' status updates related to the inauguration and make it easy for you to post your own thoughts.
The New York Times will have live-streams and print coverage, along with other multimedia fun stuff. As the Observer's Felix Gillette reported, the Web site of The Washington Post will produce live video coverage of the festivities with Post reporters Chris Cillizza, David Maraniss, and Dana Priest providing commentary. CBS News will stream its broadcast coverage from 10 a.m. to 5 p.m., along with Katie Couric's CBS Evening News at 6:30 p.m. She'll answer questions from viewers during her CNET webcast at 10 p.m.
Live Earth created a video channel for the inauguration and opened its 2009 Green Inaugural Ball by taking video submissions. You can upload a short video to the Live Earth site, "expressing ideas as to how President Barack Obama and his administration can use clean energy and green technology to change the country, save the economy, and solve the climate crisis."
If you have an iPhone or a Google Android, you can download an application called InaugurationReport, brought to you by the same team who built the Twitter Vote Report, here. If you want to get a live-stream of the ceremony on your iPhone, download an app at Ustream.tv.
You can also play around with this silly Inauguration Speech Generator.