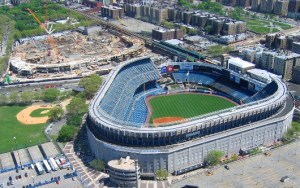 With two days until the city is slated to approve a fresh batch of more than $500 million in tax-free bonds to finish the Yankees and Mets' new stadiums, the city's Independent Budget Office has released numbers calculating subsidy, adding a bit of clarity to a somewhat murky debate.
Between the new Yankee Stadium and Citi Field, IBO estimates the total cost of various city, state and M.T.A. subsidies at $762.3 million—$528 million for the Yankees and $234 million for the Mets. That's about 35 percent more than the $499 million that the IBO calculated in 2006 for the two projects (costs, particularly on infrastructure and parks for the Yankee project, increased significantly). Taken with federal subsidy on tax-exempt financing for the structures, the total cost to the public is estimated at $1.2 billion, according to the IBO. [Full figures in an IBO document here].
The Yankees and Mets pay the cost of building their stadiums, though subsidies come in the form of tax exemptions, infrastructure and rent abatements.
The latest round of bonds—and the cause for all the recent fuss—represent a small fraction of the total public sector cost. Between the city and state, about $3.6 million is lost in foregone taxes in the latest round, with the federal government losing about $90 million in potential tax revenue, according to the IBO figures.
Yankee Stadium is now slated to cost $1.3 billion, and Citi Field has a price tag of $800 million.
Not that it changes much, but it's worth noting that the 2006 estimates were in 2006 dollars, while the IBO numbers from today are in 2009 dollars. The city has long held that the benefits are worth the investment and the financing is leveraging private investment and a large federal tax exemption at minimal cost to the city.
The IBO issued the figures at a somewhat tense hearing today, held by Assemblyman Richard Brodsky.